Baidu Apollo Go robotaxi fleet in Wuhan increased from five to 300 vehicles in one year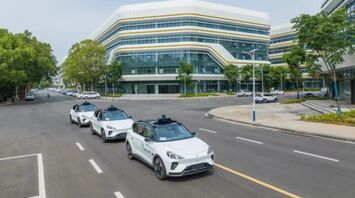 Baidu Apollo Go robotaxi. Source: Adas & Autonomous Vehicle International
Baidu Apollo Go's fleet of Baidu Apollo Go robotaxis in Wuhan, central China, has expanded from five to 300 vehicles in one year. The company's coverage area has also been expanded, increasing from 100 km2 to 1,100 km2, thereby reaching four million potential customers.
This is reported by Adas & Autonomous Vehicle International. As of June 30, 2023, Apollo Go has provided more than 3.3 million rides to the public.
"Over the past year, one of the most significant developments in the smart vehicle sector has been the successful deployment of autonomous driving on China's challenging urban roads. Since launching its autonomous cab ordering service in Wuhan in less than a year, Baidu has launched operations in many areas of the city, including Jingkai, Hanyang, Dongxihu and Qiaokou. The company was also able to expand its drone car services to include Wuhan Tianhe International Airport, becoming the first company in China to offer drone rides at the airport," said Zhenyu Li, senior corporate vice president of Baidu and general manager of Intelligent Driving Group.
According to the company, the expansion of the service area and the increase in fleet size have been accompanied by improved operational efficiency, resulting in a continuous decrease in vehicle cost per kilometer. At the same time, Apollo Go showed significant growth in both average daily order volume and revenue per order.
"Baidu's autonomous driving safety tests have exceeded 70 million kilometers, and there has been a significant safety improvement compared to human driving: from three times to nearly 10 times," added Ya-Qin Zhang, member of the Chinese Academy of Engineering and dean of the Institute of Intelligent Industry at Tsinghua University.