American Airlines offered a passenger to pay extra to seat next to her child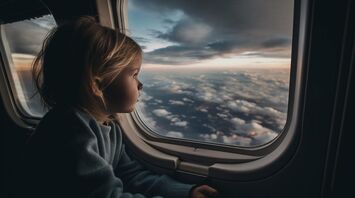 Gir on an airplane. Source: Freepic
Sara Kloek, a passenger of American Airlines, exposed the lie about free seat assignment on an airplane when you fly with a child. The woman wrote about it on Twitter.
According to her, when she booked a flight on American Airlines, it turned out that she would be sitting with a two-year-old across the aisle. When she tried to resolve this issue, the company offered to pay an additional $61 for the service to change the seat, Yahoo writes.
The situation happened on August 17. According to the woman, a few months before, her husband had booked plane tickets for the whole family.
They were supposed to fly from Washington, D.C., to Minnesota to visit their family.
It later turned out that the mother and her 2-year-old daughter were seated across the aisle from each other, even though American Airlines' policy guarantees that all families will sit together on all flights for free.
According to the woman, in March, she saw an announcement from American that it was the first airline to guarantee that children under the age of 14 and an accompanying adult would sit together at no extra charge.
The day before the flight, she saw that the airline had finally allocated seats for the family: Kloek and her daughter got two seats across the aisle from each other, and her husband sat seven rows behind them.
According to the woman, she didn't want her child to be next to anyone else. In addition, her two-year-old daughter was flying in a car seat, which can only be used near a window for safety reasons.
The woman decided to contact the company's managers using the app's chat. They told her that she could pay $61 for two additional seats in the main cabin together or "let our flight attendants take care of it."
On her Twitter account, Kloek provided screenshots of her conversation with the managers. She said she didn't want to take any chances travelling with a small child.
The passenger received a response from American Airlines via personal message, where she was told that she and her daughter were placed in window and aisle seats.
The company recommended booking seats as early as possible. If the system detects that you are flying together as a family, it will assign seats together a few days after the booking.
If you book your tickets separately, you can call the carrier's reservation line so that they can assign seats.