Airbnb invites neighbours to report platform tenants if they throw a loud party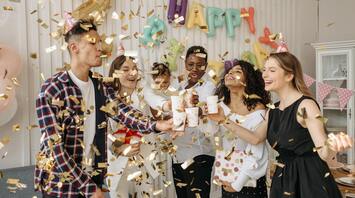 Noisy party. Source: Pexels
The popular real estate rental service Airbnb is introducing a function of informing about inappropriate behaviour of tenants.
In particular, some restrictions are being introduced to reduce the number of parties on the eve of Memorial Day and the 4th of July, Business Insider reports.
The company announced that it is returning to the policy it used for Memorial Day last year, as it is a popular three-day weekend for travelling in the United States.
It should be noted that Airbnb has already introduced a number of measures after it temporarily banned tenants from hosting parties for the first time in 2020. Later, the ban on parties became permanent and was especially tightened during holidays such as Memorial Day, Halloween and New Year's Eve.
The company has already imposed restrictions on some one- and two-night bookings and blocks bookings that it deems to be high-risk based on details such as the user's past ratings and their distance from the booking, as well as whether the booking was made at the last minute.
What Airbnb is introducing
The company suggests that guests make a confirmation that they understand the consequences of hosting parties at the property, including possible suspension or ban of their account.
Airbnb also encourages neighbours to report anything they believe to be a party or other problems through the Neighbourhood Support Line. The company also offers special noise and humidity sensors that can detect parties or large numbers of people.
The company emphasises that it wants to help hosts promote responsible travel in their neighbourhoods and work to reduce the risk of disruptive parties.
Airbnb also noted that it has seen a 55% decrease in the number of party reports since the introduction of the global party ban in 2020.