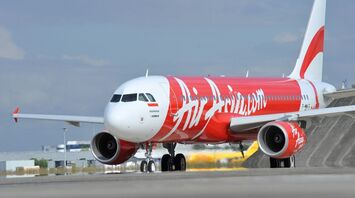 AirAsia Indonesia. Source: Airline Ratings
Capital A Berhad plans to double its fleet in Indonesia over the next three years to capture the growing tourism market in the wake of the COVID-19 pandemic.
This was announced by its chief executive Tony Fernandes. AirAsia Indonesia, a unit of Capital A, currently has about 28 aircraft in its fleet. Fernandes told reporters on the sidelines of the ASEAN Business Forum in Jakarta that he plans to increase the fleet to 75 by 2026 by bringing in more wide-body aircraft, Marcet Screener reports.
Fernandez said the company's main goal after the pandemic was to quickly increase its fleet as travel returns to normal.
"I'm very excited and we want to do as many direct flights as possible, we want to open up routes that we haven't opened up before," Fernandes said, referring to Indonesia's plans to develop destinations beyond the popular resort island of Bali.
Last year, Malaysia's AirAsia Group Bhd changed its name to Capital A Berhad to reflect its growing portfolio of companies outside of its main low-cost airline.