A woman experienced the worst night of her life: she traveled 20 hours on a bus without a toilet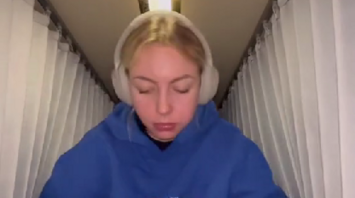 Mia Challiner. Source: Screenshot
Mia Challiner spent 20 hours on a bus traveling across Vietnam from Hanoi to Hoi An without a toilet. The thing is, these buses are cheap - costing only a few pounds. Therefore, they have no toilets and no comfortable seats.
She told about her terrible experience in a video on TikTok, an account in which she runs under the nickname @miachalliner. The video has already been viewed by more than three million people.
The woman says she and her brother booked an overnight bus to travel from Hanoi in the north to the historic city of Hoi An on Vietnam's east coast. Mia says that when she booked the trip she thought it was fun, but when it was over she felt different.
The woman showed herself on a bus with bed-like seats for sleeping inside small individual capsules with curtains. Unfortunately, the pods were not as large as she expected, which was a recipe for disaster. The situation was only made worse as she only brought a few snacks with her.
"I didn't expect to have no storage space at all. I managed to sleep for a couple of hours with my knees bent and at 12 a.m. I woke up at 12 a.m. to the screaming of a man walking down the aisles," said Mia, who only managed to find a restroom while transferring to another bus.