A travel writer with claustrophobia revealed how she copes with it when travelling by air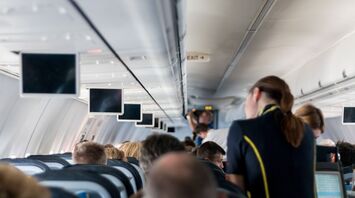 She downloads entertainment apps and takes a book with her. Source: rihabay.com.
Claustrophobic travel writer Lola Mendes has revealed how she copes with airplane travel. To do this, she takes medication, works with breathing and meditation, and chooses her seat carefully.
She listed her tips in an article on Insider. Mendes admitted that she first experienced claustrophobia in 2018.
"The first time I felt claustrophobic was on an overnight bus in Cambodia. There were single beds instead of seats. I didn't realize that my ticket included half a bed. I ended up sharing the seat with an elderly woman. When she pulled the curtain, I immediately felt completely short of air. I was having trouble breathing, which would be horrible for anyone, but would cause extra anxiety for someone like me with asthma. I asked the driver to stop and stepped outside to get some air, but I threw up behind the bus. Since then, I've felt the same thing more than once while travelling on airplanes," Mendes revealed.
After consulting a psychiatrist, she was given a prescription for medication, which she takes with her wherever she goes. She also uses chewing gum as it helps calm her nervous system.
"When flying, I make sure to reserve aisle seats at the front of the plane. Seeing fewer people helps me feel calmer because I don't feel trapped. By having a seat closer to the front of the plane, I can wait for the last boarding call and be one of the first to get off the plane upon arrival, which shortens my time on the plane," the writer said.
She also downloads entertainment apps and takes a book with her.
Mendes uses noise-cancelling headphones and bottles of essential oils to create a soothing atmosphere while travelling. She always carries tiny amethysts, rose quartz and quartz crystals.