A plague of seals and sea lions occurred in Uruguay: hundreds of animals died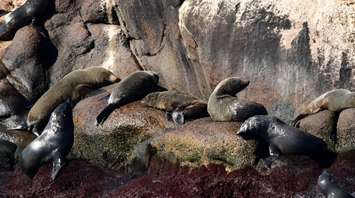 Seals resting on Isla de Lobos. Source: Phys.org
Approximately 400 seals and sea lions have been found dead on the coast of Uruguay in recent weeks, with authorities blaming bird flu.
It is noted that against this background, the country has detected cases of bird flu among sea lions on the country's coast. "Now this situation is developing, and we attribute it to bird flu," said Carmen Leizagoyen, head of the Fauna Department of the Ministry of the Environment, Phys.org reports.
Researchers are conducting additional tests to determine the source of the infection in sea lions and possible ways of transmitting the virus. This is an important step to control the spread of the disease and its impact on the ecosystem.
In addition, scientists are studying the possibility of avian influenza transmission from sea lions to other species and possibly to humans who may interact with these marine mammals.