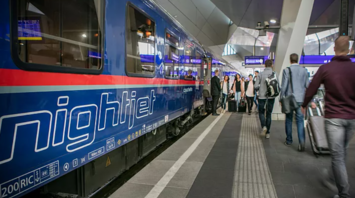 Nightjet train Paris-Berlin. Source: Euronews
The Nightjet Paris-Berlin train will be re-launched in 2024 as Europe's rail renaissance gathers pace.
Soon, passengers will be able to fall asleep in Paris and wake up in Berlin thanks to the return of night trains by Austrian rail operator ÖBB, Euronews reports.
After a nine-year hiatus, the Nightjet sleeper service will be resumed on December 11 from Berlin, returning the next day.
Starting with three trips a week, it will offer daily service from the fall of 2024.
Along the way, the night train will stop in French Strasbourg and German Mannheim, Erfurt, and Halle.
It is noted that the Austrian company ÖBB is leading the revival of night trains in Europe.
In 2021, it launched a new Nightjet sleeper route between Vienna and Paris via Salzburg and Munich, joining the existing Brussels-Vienna route.