A man who argued with his neighbor over baggage space has been removed from a flight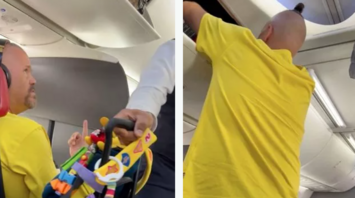 The dispute tried to resolve the stewardess. Source: Screenshot
A passenger of American Airlines was taken off the flight because he complained about a neighbor who put a lot of luggage on the top shelf. Between the men there was a real scandal.
About it writes Mirror. The passenger urged his neighbor to provide and him a place in the upper locker of the cabin, but because of his behavior was deprived of the opportunity to make the flight.
To calm the angry passenger, who did not find a place in the compartment for his belongings, had to intervene flight attendant. Due to the confrontation between the customers of the flight there was a delay in boarding.
Moreover, the American Airlines customer started threatening the flight attendant with the police, and as a result, he was actually removed from the flight.
The flight attendant complained about him to the crew and the man, along with his companion, was simply kicked out of the plane.
In the end he threatened not to fly with this air carrier again.