A man tried to conquer the Atlantic Ocean on a "hamster wheel" (video)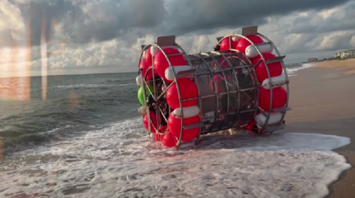 The wheel on which he tried to cross the ocean. Source: Youtube screenshot of WeirdNewsGlobal
70 miles off the coast of Georgia, law enforcement authorities detained a man, Reza Baluchi, who was attempting to cross the Atlantic Ocean on a device he had built himself, a "hamster wheel". The inventor claimed that he was trying to get to London.
According to the Coast Guard, the man embarked on the dangerous voyage as Hurricane Franklin was approaching. The Coast Guard said that Baluchi refused to get off his invention, displaying "two knives and threatening to injure himself" if officers decided to board the ship, Blazemedia writes
In addition, the weird man also "threatened to blow himself up," which forced the Coast Guard to contact the Navy to locate the explosives. But Baluchi then said he had no bomb.
Eventually, the US Coast Guard discovered that the inventor was trying to conquer the ocean on a device that resembles a wheel that you place animals like hamsters into. It was powered by muscle energy and was afloat through wiring and buoys.
It is emphasized that this is not the man's first quarrel with the authorities. In 2014, he was found 70 miles off Florida when he tried to run around the Bermuda Triangle in a device that resembled an inflatable bubble. The report states that court documents indicate that he signed a $250,000 bail bond.
In addition, according to media reports, Baluchi was also arrested in 2021 after attempting to travel on his device from Florida to New York, drifting 30 miles south of his departure point. In turn, Baluchi claims that he was trying to raise money for the Coast Guard and the homeless.
"My goal is to raise money not only for the homeless but also for the Coast Guard, for the police department, and for the fire department," he said.
A short documentary about the man and his "bubble" appeared in 2022, in which the inventor explains why he decided to create this device and why he wanted to use it to "walk on water."