A former flight attendant explains how to recline an airplane seat properly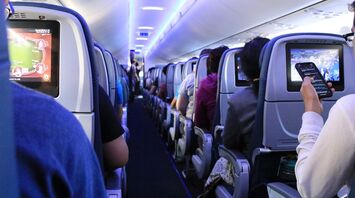 It's important to ask permission from the passenger behind you. Source: pixabay.com.
Former flight attendant Caroline Kneitz, who worked as a flight attendant at Emirates in Dubai for six years, explained how to recline airplane seats properly. She emphasized that everyone has the right to comfort, so if the seat does not recline for some reason, the passenger has the right to a transfer or compensation.
The most popular mistake, according to the woman, is when a passenger simply reclines the seat without looking at who is sitting behind him.
So she advises to always look around to see who is there and ask if there are any objections.
Caroline also says it's strongly advised not to recline your seat at the start of a flight.
"I would advise always waiting until you've finished your food and drinks. The last thing you want to do is recline abruptly and have food and drink spill over onto the person behind you. As soon as service stops, look back and make sure the person has finished eating and drinking and see if you can lean back. As mentioned, this tactic usually works like a charm," the flight attendant added.