A cruise ship rescued a rower who was trying to cross the Pacific Ocean and break a record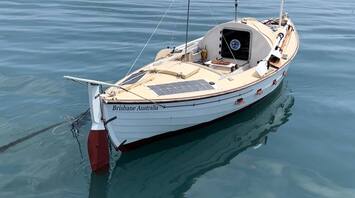 An Australian man who tried to cross the Pacific Ocean was rescued. Source: Instagram/tom_._robinson
A 24-year-old Australian rower, Tom Robinson, who intended to cross the Pacific Ocean, was rescued by a cruise ship after his boat capsized. The Australian sought to become the youngest person to cross the Pacific Ocean.
However, 100 nautical miles northwest of the coast of Vanuatu, a Pacific island nation in Melanesia, the rower signaled for help. The traveler was found sitting on top of the boat with no clothes on, the BBC reports.
On the spot, the rower was provided with the necessary assistance. He suffered sunburns, but in general his condition was satisfactory.
The statement reads: "Tom's father has been notified by the Australian Maritime Safety Agency (AMSA) that Tom's beacon had been activated."
The cruise ship Pacific Explorer deviated from its planned course to pick up the Australian. About 13 hours after the beacon was activated, he called his family.
Tom explained that the ship's capsize was caused by an unexpectedly large wave that came through the main hatch and flooded the cabin.
"We are sincerely grateful to the authorities of Australia, New Caledonia and Vanuatu, who were instrumental in his rescue; and to the captain and crew of the Pacific Explorer, who literally did everything they could to get Tom," the statement added.