TOP 10 best hotels in Boston, Massachusetts for a comfortable stay and exploration of the city's attractions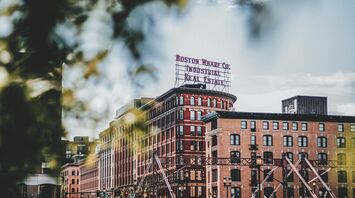 Get to know Boston better to fully enjoy it. Source: Photographer Jayden Burdick/Pexels
History in Boston takes on new life in literally everything. The city is painted with historical sites and events in great detail. Therefore, the best hotels in Boston try to preserve the general atmosphere and only emphasize historical buildings and styles with elegant modernity. You'll be welcome in Boston whether you're here for a day or plan to stay longer. With the best options for places to stay in Boston, you'll always be able to experience and touch history without being cut off from the benefits of civilization.
We have selected Boston hotels for you by rating, reviews and comfort, all you have to do is choose your view. The list includes unique, cool, and classic places to stay in Boston, so don't rest until you've read through to the end.
1- The Newbury Hotel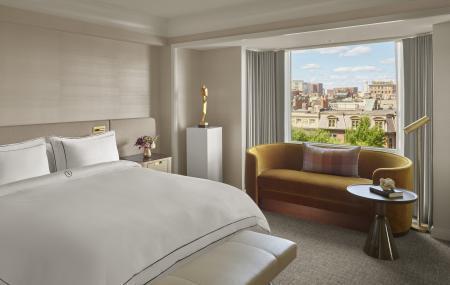 Where: between Back Bay and Beacon Hill (intersection of Newbury and Arlington).
Renovations and upgrades went in favor of one of Boston's finest hotels, the Newbury. The reputation and popularity of the establishment skyrocketed and the hotel began to discover all the TOPs of the Boston lodging scene.
The hotel has a special charm, its art-eco interiors lure not only guests but also Boston residents who are willing to share a party for two.
Pleasant surprises, such as a third night complimentary, make you put things aside and continue your comfortable stay. You can be the recipient of sumptuous in-room breakfasts for two (up to $90 value). The "Escape to the Museum" package will allow you to enjoy not only the services of a great hotel in Boston but also go to two interesting museums for free. The "Sweet Dreams" package will give you spa aromas that will not only enrich your skin but also give you a sound, healthy sleep. Room service can make your lunches and dinners romantic right in your room. If you choose a suite with a fireplace, the passionate flames will add to your romance.
The rooftop restaurant Contessa not only offers dinners with panoramic views of the city but also credits up to $100 for food and beverages throughout the hotel.
The Newbury Hotel has many fashionable and elegant locations for your special dates.
2. Lighthouse XV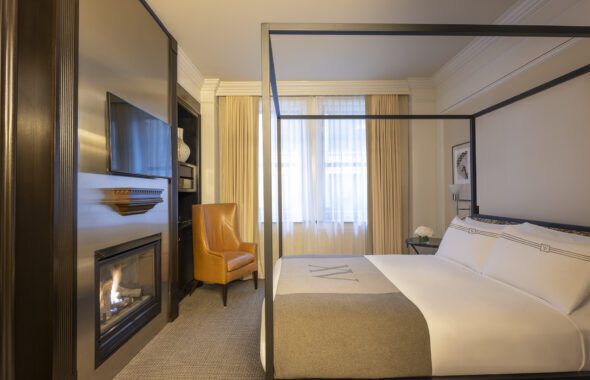 Where: Beacon Street, Boston.
Feel like a king, president, or just plain pampered by staying in a historic building on Beacon Hill. One of Boston's most chic hotels offers undisguised luxury with marble staircases, mahogany paneling, a glass elevator and more than comfortable rooms. This boutique hotel in Boston boasts a labialized attentive staff, personalized amenities and an aristocratic heritage atmosphere.
The concierge complex is like a magic wand that can make your wishes come true. Any excursion, in-room or salon spa treatments, romantic dinner or work conference - everything is organized quickly and to the highest level.
There are only 7 rooms on the floor, eliminating the crowds. Room interiors include art and modern amenities in the form of rain showers, flat-screen TVs and gas fireplaces. The coffee and pastel color scheme creates a cozy feel, and the carved furniture serves as a great historical accent.
Seasonal packages from one of Boston's best hotels will not only help you get a nice financial deal but also help you experience the romance and beauty of each season. Many of the packages include upgrades and 20% discounts on lodging. If you're traveling with kids, book something special for them with the Let's Bring the Kids package. Kids will get lots of delicious and fun surprises from bubble gum bath salts to shared activities for the whole family.
Become a regular at the place you need to stay in Boston's Beacon XV Hotel.
3. Four Seasons Hotel Van Dalton Street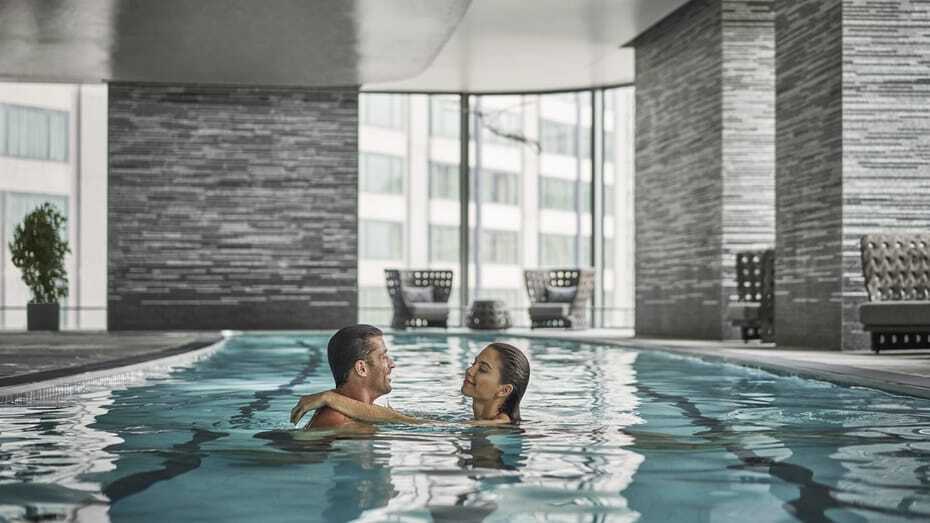 Where: 1 Dalton Street, Boston.
The world-renowned Four Seasons hotel chain towers a multi-story glass beam over Boston. Its rooms, with panoramic floor-to-ceiling windows and light-colored interiors, are filled with comfortable details and the delicacy of vibrant colors. The spacious suites are equipped with living areas for a comfortable stay for families or visiting guests. The bathrooms are charmingly elegant and have great views of the cityscape. Some suites feature terraces with high glass sides. You can start your day with breakfast on the terrace or relax at sunset.
24-hour in-room dining allows you to adjust to your desires and rhythms, while a wide range of spa treatments will leave you revitalized and revitalized. Take a dip in the water on the high floor. The pool with panoramic windows will be your must-treatment. The fitness center for tone and well-being is a great way to bring activity into your day.
The classy Boston hotel has several restaurants and a lobby bar. Here they will fulfill your gastronomic fantasies and keep you in a good mood. You can participate in parties or throw them yourself.
The Four Seasons Hotel in Boston, MA will give royal care and fulfill your desires.
4. Mandarin Oriental Hotel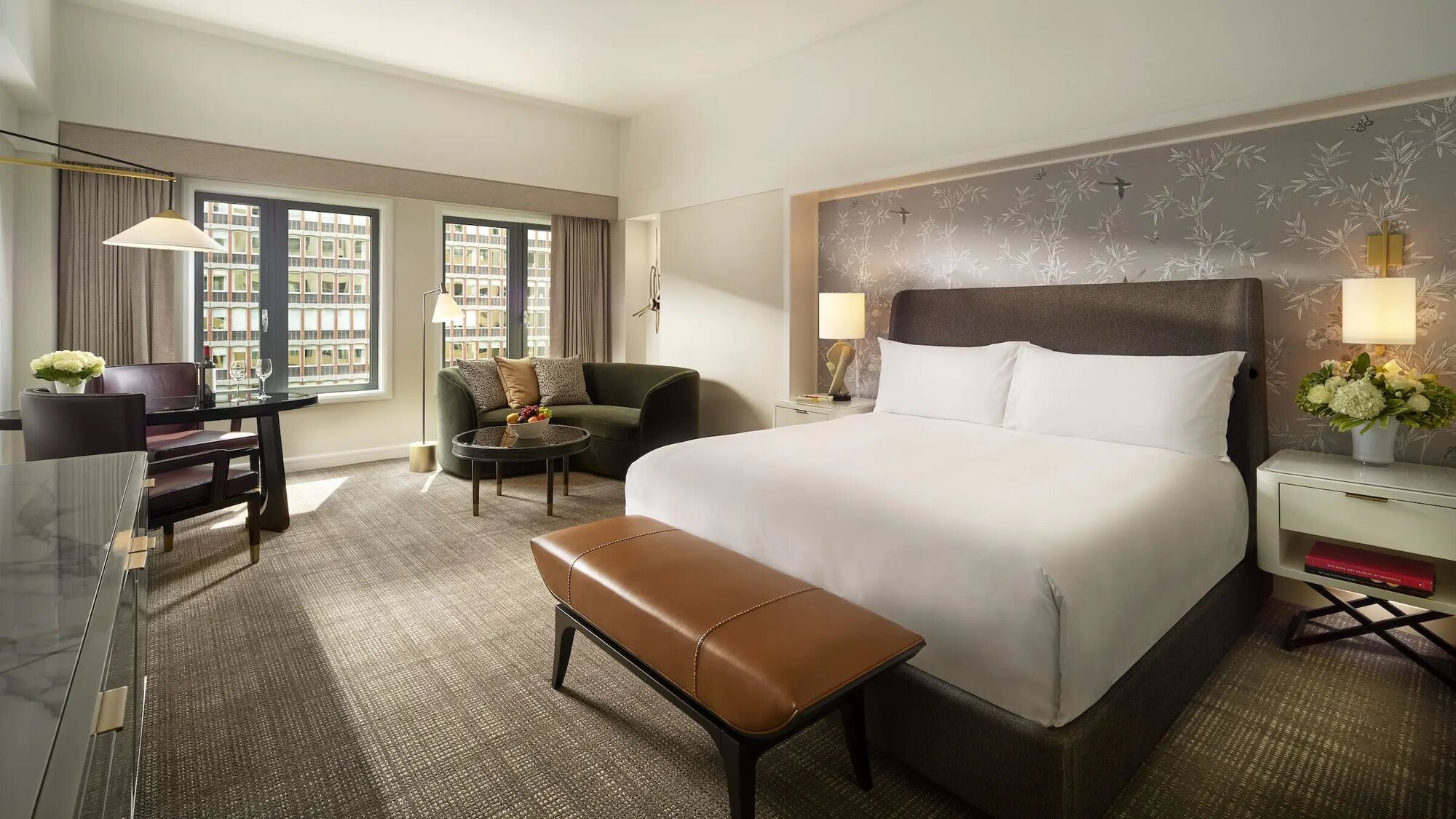 Where: Boylston Street, Back Bay.
The Forbes star and luxury hotel in Boston is the Mandarin Oriental. Its interiors blend modern New England and Asian accents in wall decor and furniture accessories.
The hotel offers a choice of 148 very spacious guest rooms, meeting rooms, a spa and a fitness center. Conveniently located at Logan Airport will allow you to be mobile and punctual.
Gordon Ramsay Restaurant will be your unique gastronomic experience. The talented chef and his team have been awarded a Michelin star and are ready to captivate you with a multitude of author's dishes and cocktails.
Immerse yourself in the world of a five-star spa, where your most romantic desires will come true and your body will be rebooted. Himalayan singing bowls and lava stones - this experience will stay with you for a long time.
Mandarin Oriental Hotel will organize your city tours, guide you to the most interesting attractions and book your Red Sox tickets. Broadway and family entertainment, brewery tastings, forest bath therapy and transportation to anywhere in the city - plenty of reasons to stay at Boston's finest Mandarin Oriental Hotel.
5. Four Seasons Hotel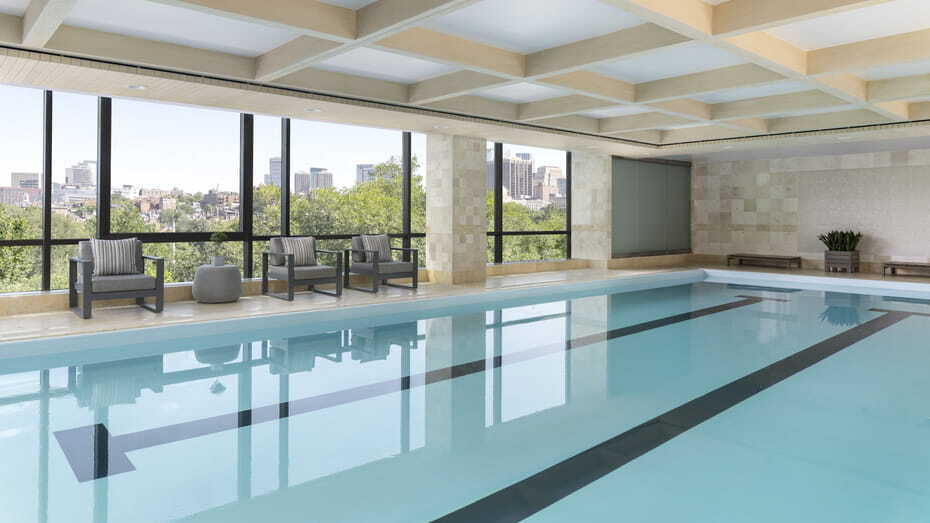 Where: 200 Boylston Street, Boston.
Another fabulous variation from the Four Seasons hotel chain. The harmonious and very beautiful interiors create a very tranquil atmosphere where you can experience bliss and relaxation, whatever the purpose of your visit. Spaciousness and softness are the motto of this rhapsody in which everything is as it should be. The many superior suites as well as the Presidential Suite and the Senatorial Suite will more than satisfy your need for comfort.
In the indoor pool, you can relax after a day's work or start your morning cup of coffee right by the water. Outside the panoramic windows, a pleasant picture of the Boston Public Garden awaits you. The 24-hour fitness center will satisfy your need for activity and tone you up for the day.
An expansive list of services will help you handle all household matters quickly and easily. And transportation reservations will keep you mobile, for all your plans.
Qualified managers are ready to organize leisure activities for all family members, based on age, preferences and interests. Babysitting services at the hotel will allow adults to enjoy spa treatments or be at a romantic dinner for just the two of you.
Restaurants and bars will please not only with the taste of sumptuous dishes and cocktails but also pleasantly surprised with unlimited complimentary snacks and refreshments.
Let the professional staff take care of you at one of Boston's most famous Four Seasons hotels.
6. Commonwealth Hotel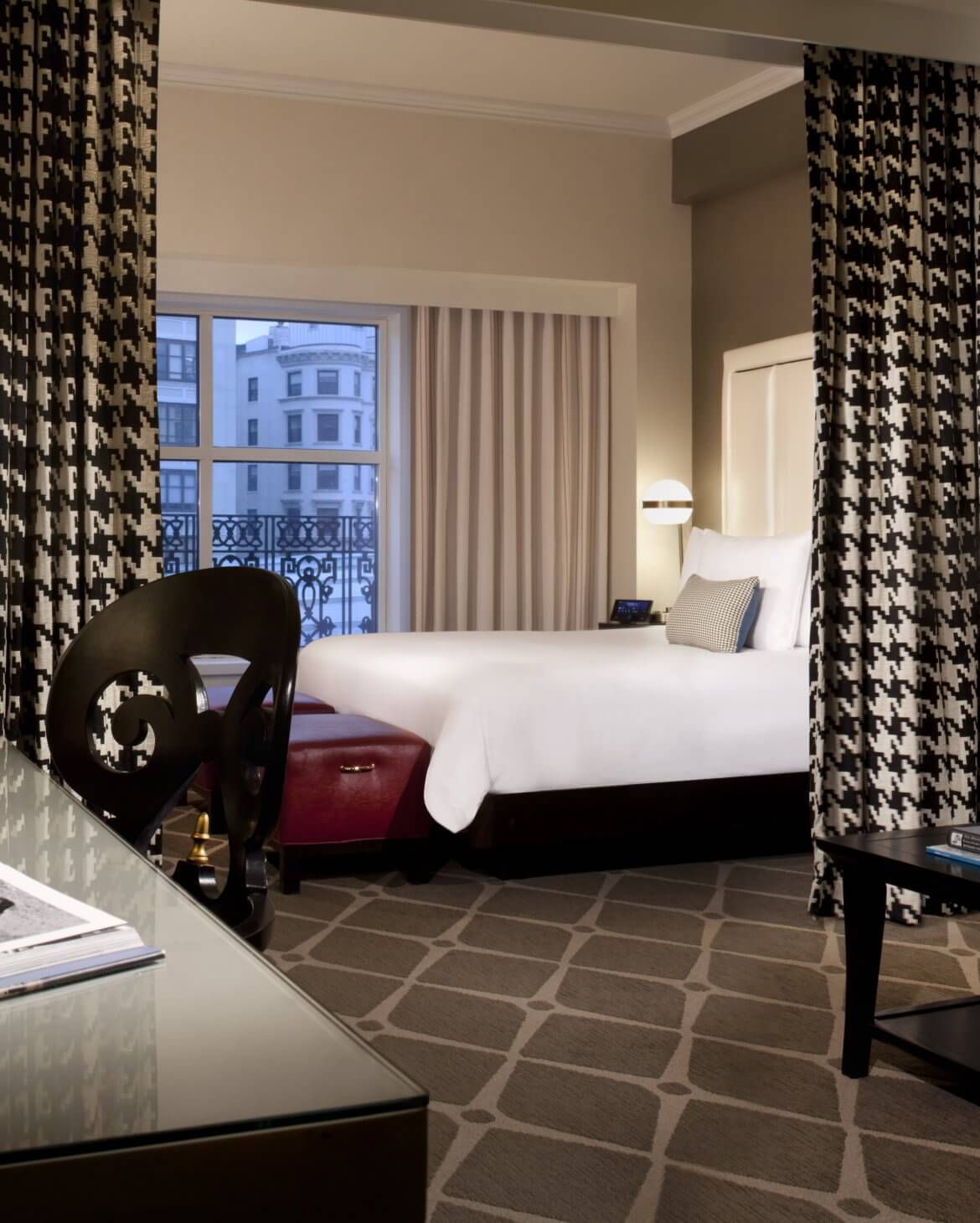 Where: Downtown, 500 Commonwealth Avenue, Boston
Spending time in a good hotel in the heart of Boston is the key to your successful trip. This modern urban gem has many advantages, from its location to all the necessary services and locations on its premises.
Spacious rooms will delight you with a relaxed atmosphere created by stylish furniture and courteous staff. All amenities are thought out to the last detail. A work area, a soft large bed, a small lounge in each room and an inspiring bathtub for instant relaxation await you.
Three restaurants including an outdoor rooftop area include the Udon Restaurant at TsuruTonTan, Blue Ribbon Sushi and a beer restaurant. Relax, taste, snack and unwind.
This vibrant Boston hotel provides game packages to help you live out the comfortable days of a true Red Sox fan. The offerings will help you incorporate a variety of activities into your vacation, from apple picking to paddling on the Charles River. The winter months give you free nights and unprecedented discounts on lodging. Take advantage of the bed and breakfast package to make your mornings not only enjoyable but also romantic. Remember the early booking policy to make your visit to Boston more favorable.
Commonwealth Hotel will make for an impressive stay in the place you need to stay in Boston.
7. The Langham Hotel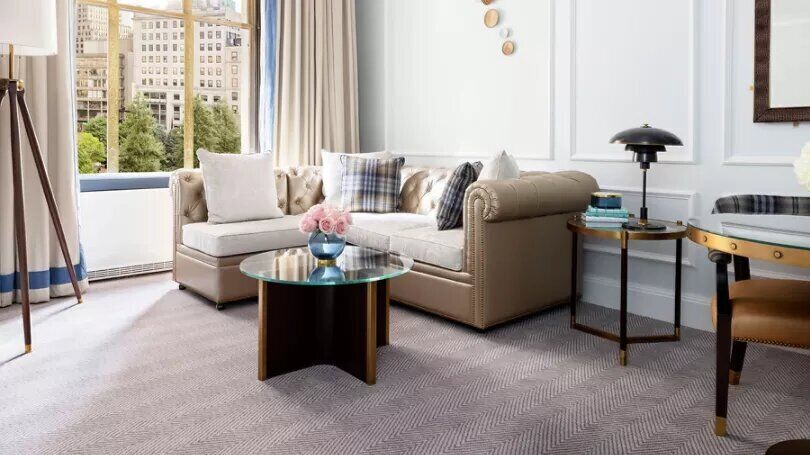 Where: 250 Franklin Street, Boston.
The presentability of this nice hotel in Boston is simply captivating. Its red umbrellas catch the eye on the outside and its multi-detailed beauty on the inside.
The location of the Langham Hotel allows you to enjoy the main attractions of Boston and take organized walks with the help of an intelligent guide.
The establishment's policy allows people with disabilities to feel as comfortable as possible. Braille, ramp access and specialized rooms serve as proof of this.
The sophisticated style of the rooms allows you to enjoy every minute of your stay. Modern stylish furniture, with a well-chosen color scheme, demonstrates an unparalleled sense of taste, and fresh details such as flowers or candy bowls add care and warmth to your day.
If you are the winner of an executive or superior suite, you will have access to the Langham Club, where you can have a great time with personalized service.
One of the best hotels in Boston, the Langham takes care of your health. The fitness center is equipped with state-of-the-art cardio machines, exercise bikes and strength equipment. You can always get healthy under the supervision of a professional trainer. The indoor heated swimming pool and hot tub are wonderful for both relaxation and toning. You can always use the sauna for therapeutic spa treatments.
The fabulous package offerings at Boston's popular Langham Hotel allow you to experience the holiday spirit and create your own. Spend the night in the Chairman's Suite and you'll get a VIP box seat to the Nutcracker ballet (4 tickets) and enjoy an unrivaled dinner for the whole group. Keep the kids busy decorating gingerbread and give them an introduction to the Paddington brand (gifts, surprises). A credit program will allow you to enjoy breakfasts, and family tea parties allow for fun times for everyone.
Stay with Langham Hotel for a long time and get even more pleasant bonuses.
8. Omni Boston Hotel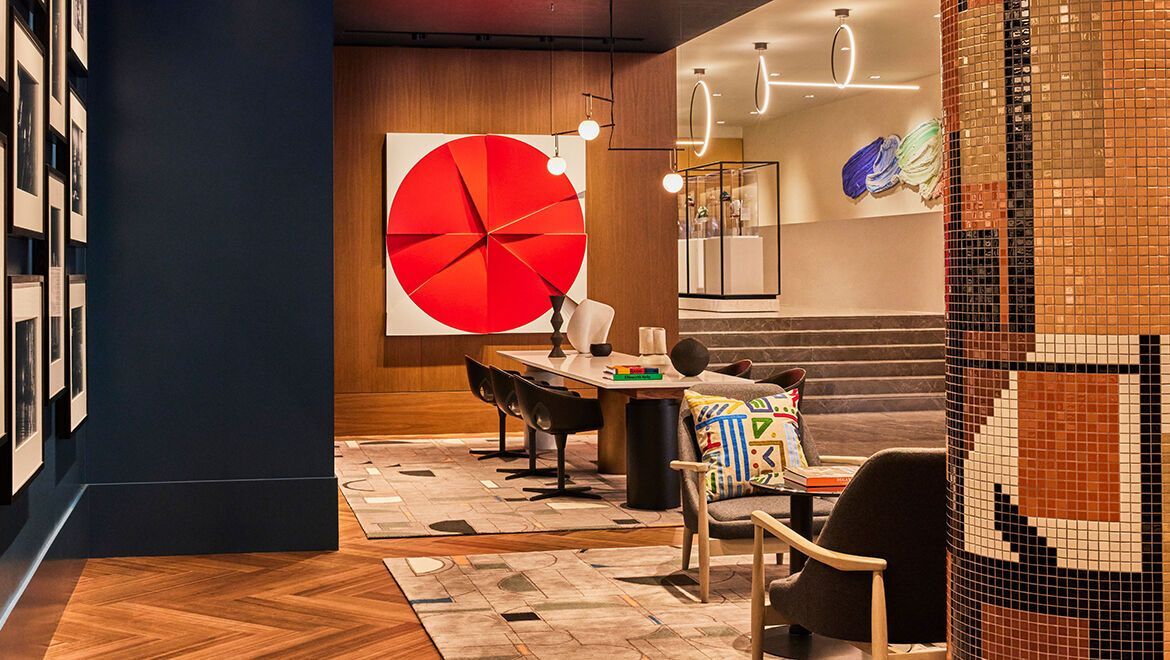 Where: Seaport, 450 Summer Street.
If you care about views in addition to comfort, the Omni Boston will suit you as a stopover in the city 100%. Floor-to-ceiling windows in the rooms overlook the panorama of the river and the city. The hotel's amenities create a harmonious stay with relaxation and activities.
Have a rest without taking a break from work. Conference rooms of different formats and equipped with modern gadgets will help you to spend your working day as if by notes. The spa, fitness center and rooftop pool will help you relax, rejuvenate and reboot.
Take advantage of six different restaurants to experience complete gastronomic satisfaction. Anything you need can be brought to your room, so you'll have the opportunity to save your time by spending it only on your desires.
Take advantage of the booking packages and you will receive many nice bonuses and discounts, from handmade chocolates to spa credits.
The hotel hosts a variety of events from photo exhibitions to parties. Your visit to the recommended Omni Boston hotel will not be boring.
9. Boston Harbour Hotel
Where: 70 Rowes Wharf, Boston.
Another view from a hotel window in Boston that's worth your attention. The city's beautiful harbor serves as home to a haven that ranks in most of the top 10 Boston hotels and, where you can spend your memorable weekend or business trip.
Boston Harbour's spacious guest rooms are filled with the comforts of home and luxurious comfort. Large beds, soft sofas, cozy pillows and armchairs are complemented by seascape paintings. Colors are matched to the landscape outside the window, which creates a harmony of details. Rooms with additional seating areas allow you to work, invite friends over or just settle in with a book. Porcelain bathtubs in the Premier rooms will make any romantic evening luxurious.
Looking at the water makes you want to take a dip and you'll have that opportunity with the 60-foot pool. The sauna and eucalyptus steam bath will give you a spa-like experience and relax you before a healthy sound sleep.
A daily harbor walk will be a therapeutic ritual.
The Boston Harbour Hotel will leave you with a pleasant breeze that you will want to return to again and again.
10. Liberty Hotel
Where: Downtown, 215 Charles Street.
If you want to stay in the center of partying and civilization, this good Boston hotel is perfect for both its location and comfort level. Its aristocratic-spirited architecture captivates the eye and captures the imagination.
Inside you will find 298 rooms and suites that preserve the historical style in their interiors. The history of the building itself is not so inspiring, but the deeds of bygone years will not affect your current comfort.
The seafront is just a few minutes away, allowing you to take landscape walks every day.
Discover the "Travel, Stay and Play" package. Two cocktails on arrival and many nice bonuses will decide your weekend.
The hotel has an unrivaled bar on site, which is favored not only by hotel guests but also by locals.
The Liberty Hotel's halls and facilities allow you to stage any of your events to perfection.