Best Costa Rica beach resorts: 7 places with perfect sand, waves and luxury amenities
Costa Rica resorts are surrounded by incredible natural scenery. Source: Image Fourseasons.com.
Costa Rica is one of the most favorite places to visit for travelers who explore the most paradisiacal corners of the planet with nature of incredible beauty. Endless blue skies, emerald mountains, forests under a dome of clouds, gorgeous beaches, lush jungles and bioluminescent bays attract fans of beach activities, outdoor activities and ecotourism here. Costa Rica has good beach resorts and adventures to suit every taste: hiking to see waterfalls, surfing, ziplining, volcano excursions and the stunning Caribbean and Pacific coastline. The perfect trip can be planned here, no matter what your vacation goals are. Travelers can have a wide variety of staycation experiences here, from name-brand hotels to boutique accommodations on the sand to eco-friendly treehouses. Head to Costa Rica's top beach resorts to try on the "pura vida" lifestyle.
Four Seasons Resort Costa Rica at Peninsula Papagayo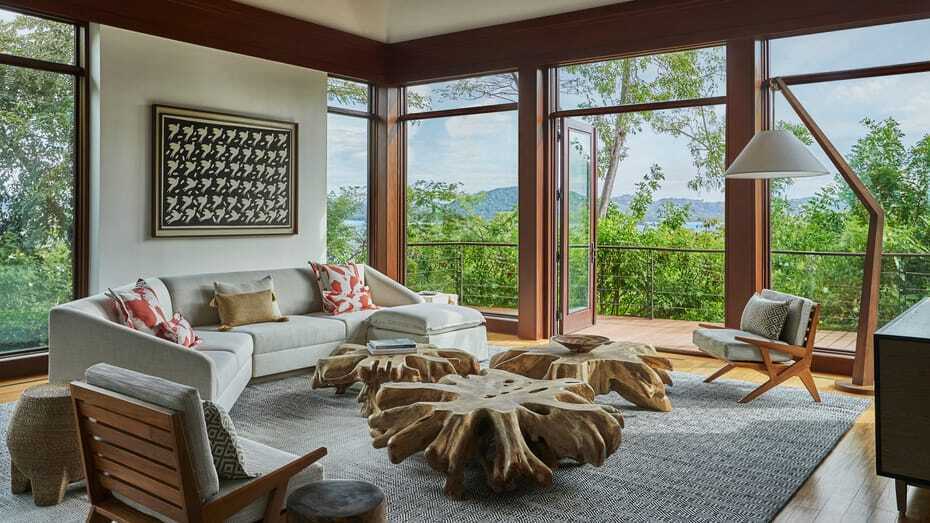 This place on the Papagayo Peninsula can rightfully claim to be Costa Rica's best beach resort, demonstrating a craving for adventure and relaxation together with a nature-friendly attitude. Meticulously manicured grounds and stunning interior and exterior give a nod to the new level of luxury guests are about to experience. Among the best beach resorts in Costa Rica and Central America, this particular five-star hotbed of fun and eco-luxury has been recognized by Forbes Travel Guide six years in a row.
It has prepared suites, guest rooms and private residences to accommodate guests. The luxurious one- and multi-bedroom suites feature furnished patios and landscaped pools overlooking the bay or rainforest. They have convenient and quick access to restaurants, beaches and other resort amenities. Guest rooms accommodate multiple adults and children and have private terraces from which to enjoy the surrounding tropical scenery and the sounds of Costa Rica's wildlife. The private residences are ideal for accommodating families, companies and guests who want to stay for an extended period of time while enjoying a secluded stay. They feature separate fully equipped kitchens and multiple bedrooms, some also have their own small pools or terraces.
Activities at the resort are exclusive to the overall luxury: ziplining, thrilling off-road adventures in off-road vehicles in search of stunning ocean views and secluded beaches, jungle excursions with an experienced naturalist guide to see over 15 species of monkeys, snorkeling and even the opportunity to contribute directly to the revitalization of the Papagayo Peninsula by planting over 40 coral fragments. In addition, you can take a cultural trip through the island's countryside or a river cruise, dive, surf, or take a boat out into the ocean. There is also an on-site spa, golf and tennis courses, and some great restaurants.
Casa Chameleon at Las Catalinas
The adults-only sanctuary on the Guacanaste Coast is one of those Costa Rican beach resorts that straddles the border between the coast and the hillside above the fabulous Las Catalinas. Its territory belongs to the eco-friendly line, and vacations here combine moments of adventure with serene comfort.
The resort has followed the ideals of pure outdoor living, complemented by understated luxury and privacy in its accommodations. There are 21 contemporary villas with exquisite decor, small private seawater pools, terraces and magnificent ocean or coastal views. A 24-hour concierge service is available to fulfill guests' every whim, from arranging entertainment to in-room massages.
A significant part of a stay at the resort is recovery. Massage services, salon facials, and private or group fitness and yoga classes are all available. A long list of memorable memories awaits resort guests as the entertainment program is truly epic. When it comes to land-based recreation, one can opt for bird watching, horseback riding excursions, mountain biking, hiking and popular triathlons, coffee tours. One of the most exciting adventures awaits you on the Congo Trail Canopy Tour, a unique jungle experience that includes 1200 meter ziplines, suspension bridges. Water adventures include kayaking, paddleboarding, private catamaran tours visiting some of the best beaches in the surrounding area, rafting, sport fishing and surfing. Vacations in Costa Rica beach resorts are bound to surprise you with gastronomic discoveries. This is no problem at Casa Chameleon, thanks to several on-site restaurants offering vibrant local authentic dishes, open-fire barbecue menus, and regional seasonal cuisine. There's also an on-site bar with premium drinks and a small wine cellar with a carefully selected selection of wines from around the world.
Andaz Costa Rica Resort at Peninsula Papagayo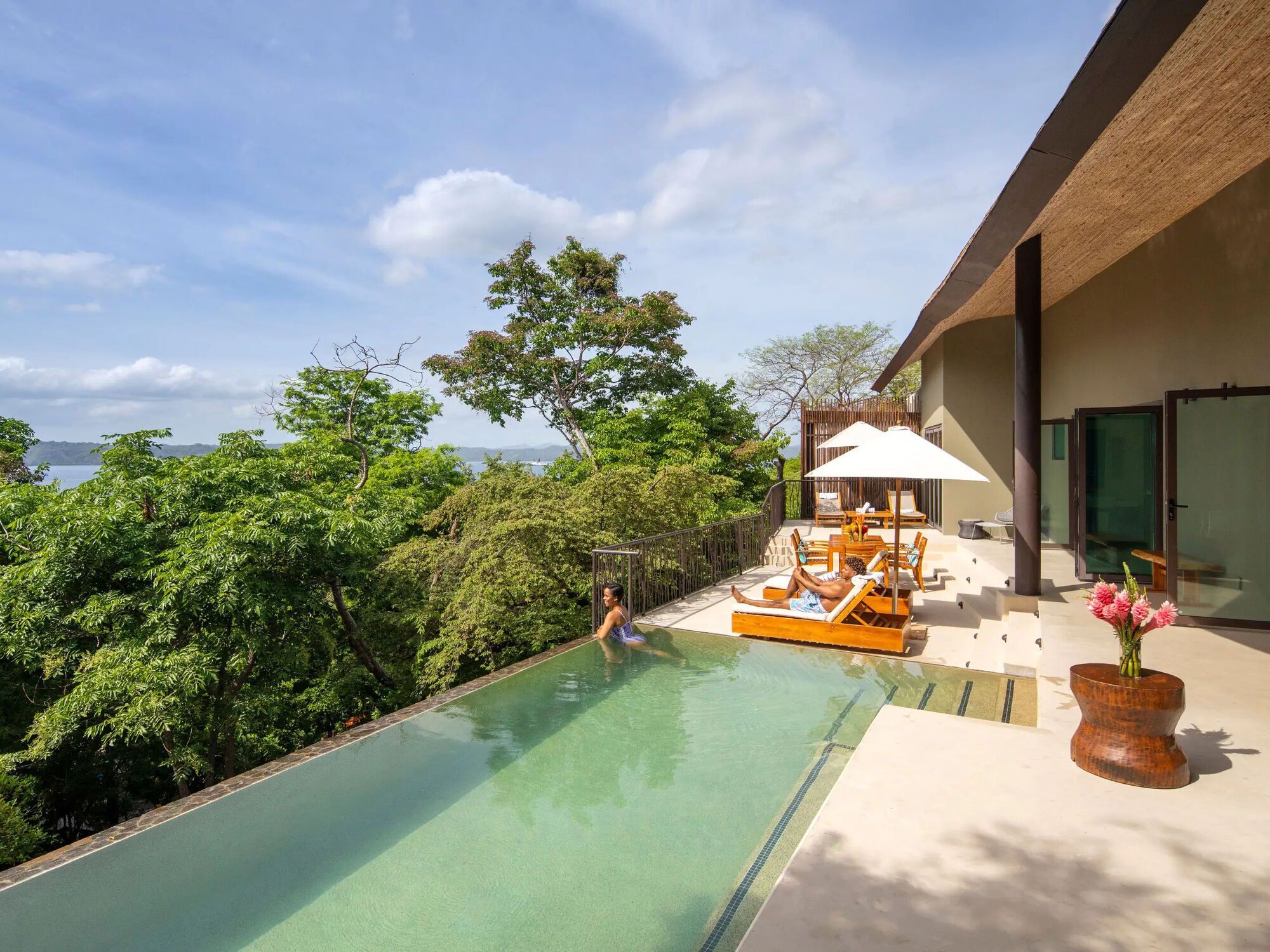 One of the best beach resorts in Costa Rica offers guests the chance to combine a jungle stay with a coastal vacation. Glowing with luxury and lush greenery, this eco-resort is reminiscent of a tropical paradise.
Guests have several accommodation options, including private villas, over 130 spacious rooms and 21 suites with a treehouse atmosphere. Rooms feature panoramic windows, tropical stone showers and spacious balconies. Suites additionally have separate living rooms, some have mini-pools and patios or terraces. Villas have 1 to 3 bedrooms, small private pools, kitchen with dining area, open plan living area or even a rooftop terrace with pool.
The resort has 4 themed restaurants that capture the essence of Latin American culture and cuisine in their own special way. It is worth noting that unlike many other famous beach resorts in Costa Rica, the resort offers an all-inclusive system: the Food and Beverage package includes all meals during the vacation (except for menu specialties and some drinks, as well as room service).
On-site guests can enjoy the resort's spa and wellness retreat, whose range of services includes yoga, fitness classes, meditation and sound healing, as well as massage, manicures, pedicures and body treatments. Andaz Costa Rica provides a huge list of activities and entertainment for guests, from barista work and mixology to Latin dancing, guided snorkeling and ceramic painting. Most of the adventures involve the nature of the peninsula. It could be golf, Pickleball or tennis in Guacanaste, kayaking and mangrove walks, surfing and beachcombing, air trails, traveling to agricultural areas to experience the traditional life and culture of the locals. If you want a special experience, go on a rainforest day tour where you'll cruise a volcanic mountain, rappel down a river through the forest, and go horseback riding with a champion lasso handler.
Florblanca
On the Nicoya Peninsula in the humble town of Santa Teresa sits the tranquil resort of Florblanca, exuding laid-back charm amidst tropical vegetation. Among the beautiful beach resorts of Costa Rica, this one most resembles a stronghold of rustic luxury, and travelers come here to join the measured rhythm of life, firmly attached to nature.
The unspoiled beaches are home to private villas for hosting guests, decorated with quiet elegance and an emphasis on local arts and crafts. Each has a spacious furnished open-air living room with a hammock for two. Bathrooms feature deep soaking tubs and stone carved sinks, and natural herbal soaps handcrafted by local artisans are prepared for guests. The villas have one or two bedrooms with a king-size bed, luxurious linens and extra sleeping space in the second bedroom. Villa #11 is designed for honeymooners: guests are guaranteed maximum privacy during their honeymoon, and amenities include a beach gazebo for sleeping and private beach access.
Vacations at popular Costa Rica beach resorts like Florblanca follow the principles of ecotourism and adventure travel. Guests can enjoy the diversity of these destinations through a variety of excursions, such as whale watching tours or a trip to a working farm that includes milking cows, making fresh cheese, and extracting juice from sugar cane. Adventurous travelers can fly over the jungle, ride all-terrain vehicles along the Montezuma Coast and visit a waterfall, perhaps even jump off a cliff into a pool at its foot, or go ATVing to Cabo Blanco National Reserve. But it is possible to spend your leisure time without leaving the territory, for example, to attend group classes of yoga, fitness, Pilates and surfing. Alternate active play with relaxation at Spa Bambu to enjoy body treatments, wraps and massages and soak in the giant Jacuzzi.
W Costa Rica - Reserva Conchal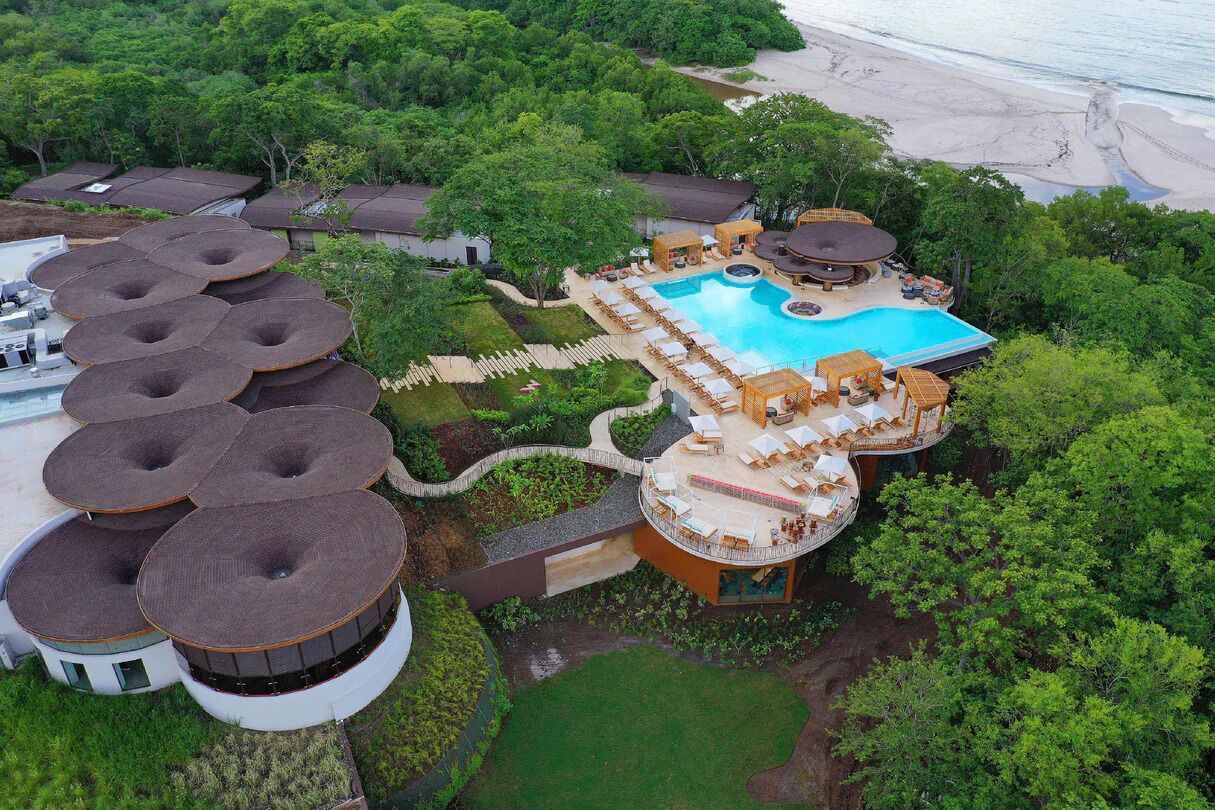 A modern escape among the mangroves of Guanacaste offers guests an array of exciting adventures amidst the exotic scenery and white sands of Playa Conchal.
The resort's hotel is inspired by Guanacaste's colorful culture and surfing atmosphere and boasts a bold and luxurious design. It has prepared 150 rooms and suites to welcome guests with stunning views of the Pacific Ocean, private balconies, a mix bar and marble bathrooms. The suites also have small swimming pools. Larger companies or families can choose to stay in a private residence with five bedrooms, kitchen, open-plan living area, private outdoor pool and world-class amenities. There are several on-site dining options at the resort - from snacks and refreshments on the poolside WET Terrace and the lively atmosphere of the Living Room Restaurant and Bar, to Costa Rican mixology at LATITUD 10° NORTE and cocktail parties at the Zona Azul Beach Club.
As with most of Costa Rica's top-rated beach resorts, the Pura Vida atmosphere is combined here with active entertainment. When choosing these Costa Rica beach vacation spots, don't miss the opportunity to ride a board at the legendary surfing locations. Relax at the poolside beach club, play a round of golf on the 18-hole course amidst exotic scenery and then pamper yourself with a gentle massage and renewing facial at the AWAY Spa.
Resort staff are on hand to arrange off-resort adventures, from cultural sightseeing to adrenaline-pumping ATV rides, to get the most out of your Costa Rican vacation. All of the best beach resorts in Costa Rica put together a variety of deals for a better value visit, but this one is one of the few that offers an all-inclusive package that includes all meals, a mix bar with snacks and soft drinks in addition to accommodations, and all drinks unlimited at the resort's restaurants and bars.
Hotel Nantipa
Another of Costa Rica 's top luxury beach resorts on the Nicoya Peninsula is located in the heart of Santa Teresa in one of the five "Blue Zones" in the world. "Nantipa" means "blue" in the local language, and that color truly dominates here, from the crystal pools to the blue waves of the ocean to the bottomless blue of the tropical sky overhead.
The boutique hotel consists of several luxury bungalows, suites and beachfront villas. The bungalows have spacious terraces and private mini-pools. Bedrooms have queen-sized beds and floor-to-ceiling glass doors offer beautiful ocean or garden views. The bungalows have hammocks, double outdoor and indoor showers. These are a popular choice for a beach vacation during a Costa Rica resorts honeymoon or romantic getaway. The beach villas are ideal for companies and families. Each two-story villa has three rooms that sleep up to 6 people and feature luxurious bathrooms, small private pools and full-wall panoramic windows overlooking the beach and garden. Suites are designed to accommodate small families and groups. They feature a twin bedroom and a large living room with extra sleeping space, large bathrooms and terraces or balcony.
This resort hotel has an interesting waterfront restaurant: its interior is reminiscent of ancient Chorotegan huts with palm thatched roofs, and the menu features traditional Tico recipes with a modern twist and signature cocktails from a local mixologist. The local Numu Wellness Center offers unusual outdoor therapies. Guests can enjoy treatments in the center's cabanas under blue skies surrounded by lush palm trees, by the pool, or book services on their terraces in the villas and bungalows. The hotel concierge service will take care of organizing other activities. These may include horseback riding, hikes in the Curu Reserve and Cabo Blanco National Park, surfing lessons, excursions to Tortuga Island, a fishing tour with a local captain, a canopy tour in Mal País, etc.
JW Marriott Guanacaste Resort & Spa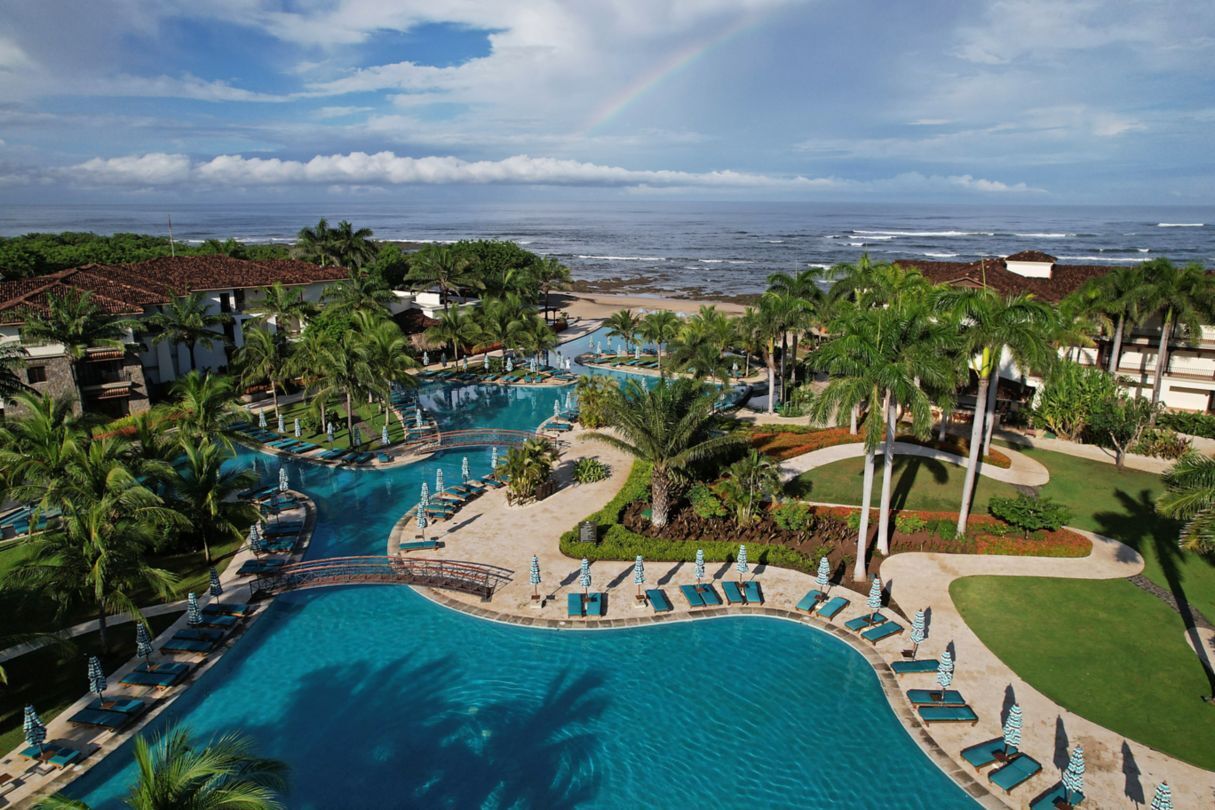 Many famous beach resorts in Costa Rica make guests feel as cozy as home, and this escape from the JW Marriott is one of them. It's especially popular for family vacations thanks to its spacious rooms and plenty of on-site amenities.
The chic Hacienda-style hotel sits oceanfront on a pristine white sand beach. The resort provides accommodation in comfortable rooms and suites in a small private village near Tamarindo. Standard rooms feature balconies, spacious marble bathrooms with toiletries and a sitting area. Deluxe rooms also have private terraces and panoramic windows with ocean or garden views, while suites have additional walk-in closets, separate living areas and whirlpool tubs. For a more exclusive location, the Presidential Suite can be booked for up to 3 people, with a living room, dining area and private Jacuzzi next to the beach.
Not only can resort guests indulge themselves with high-end amenities, but also with gastronomic delights. There are several restaurants specializing in cuisines from around the world, a coffee shop and bars with terraces and views of the garden and ocean. Beach resorts in Costa Rica, such as the JW Marriott Guanacaste, make many spectacular adventures available to their guests. On the grounds, they can enjoy rituals and treatments at the spa, visit the fitness center, swim in the free-flowing outdoor pool, and relax in the Jacuzzi. For children ages 4-12, the resort offers the JW Adventure Kids Club with a daily program of supervised activities while adults have fun and enjoy themselves. Outside of the resort, guests can relax at Mansita Beach, go horseback riding on the coast and country trails, explore the nature reserve's biking trails, and visit local attractions including snorkeling tours, jungle boat tours, scuba diving, and many other activities.