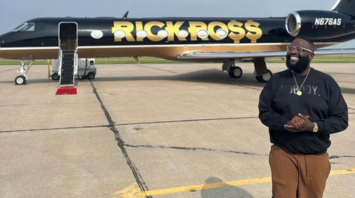 Rick Ross near his private jet. Source: Rick Ross's Instagram
Success in the hip-hop universe often translates into a lavish lifestyle full of luxury cars, large mansions, and exotic vacations.
Some elite rappers take it to the next level, and their luxurious lifestyle is also associated with the purchase of private jets, SimpleFlying writes.
Jay-Z - Bombardier Challenger 850
Rapper Jay-Z owns a Bombardier Challenger 850, a $40 million Father's Day gift from his wife Beyoncé back in 2012. The Challenger 850 is a distinguished and versatile business jet that exemplifies the epitome of luxury and performance in private aviation. Known for its spacious cabin, it offers a sophisticated and customizable interior layout that caters to both work and leisure.
Diddy - Gulfstream G550
"Air Combs" is a $550 million Gulfstream G60 owned by rapper Sean Combs, better known as Puff Daddy or Diddy. The aircraft is the pinnacle of luxury and performance, and its features are seamlessly aligned with the travel needs of famous rappers.
Drake - Boeing 767-300F
Drake is the proud owner of Air Drake, the largest private jet on this list, which also costs a lot. The Boeing 767 is valued at $185 million and boasts a luxurious interior that includes gold trim.
Lil Wayne - Gulfstream V
Lil Wayne flies a Gulfstream V, giving him the freedom to move quickly between concerts, studio shows and parties, as well as his many businesses. Its spacious cabin offers a luxurious space to relax, create and even collaborate, making it the perfect environment for Lil Wayne's unique creative process.
Rick Ross - Gulfstream G550
Just like Diddy, Rick Ross owns a Gulfstream G550, which he purchased in April this year. This mid-sized jet, equipped with a special all-black livery with the words "Rick Ro$$" sprayed across the fuselage, is perfect for his fast-paced lifestyle.