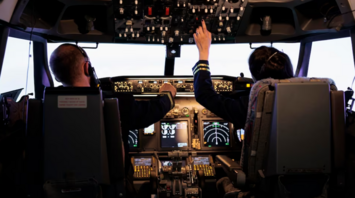 Top 5 best countries for pilots. Source: Freepik
Pilots are becoming more and more in demand in different parts of the world. According to recent studies, in a few decades, the shortage of representatives of this profession will reach record numbers.
The most profitable places to work as a pilot are listed in a rating by Insider Monkey . The article names five countries where aviators will receive the highest salaries.
Switzerland
Average salary: $172,610
Switzerland is the highest-paying country for pilots, which can be explained by its terrain and often bad weather conditions that require qualified aviation experts.
Luxembourg
Average salary: $146,809
To become a pilot in Luxembourg, individuals must complete various types of flight training available in the country, such as flight schools, higher education programs, and airline pilot programs. Usually, the basic requirements include being at least 16 years old and having a high school diploma.
USA
Average salary: $132,569
Pilots in the United States earn high salaries due to a number of factors. First, the US boasts an extensive airline network, with numerous airlines competing for qualified pilots. This competitive environment drives up wages to attract and retain qualified pilots. In addition, the cumbersome training and certifications required, as well as the responsibilities to ensure passenger safety, contribute to their high salaries. The country's robust economy and status as a global tourist destination result in a constant demand for air travel, creating a shortage of experienced pilots and further increasing their earning potential. The US is also home to some of the most profitable airports in the world.
Denmark
Average salary: $127,515
The demand for pilots is steadily increasing as Denmark continues to expand its aviation sector, thus providing promising job prospects. In addition, Denmark's high quality of life, progressive society and emphasis on work-life balance create the perfect environment for achieving a fulfilling career in aviation. It is one of the best countries for pilots.
Belgium
Average salary: $122,930
Belgium has a well-developed aviation infrastructure that includes modern airports and training facilities that contribute to high-quality pilot education. Belgium's landscape and weather conditions challenge pilots to improve their skills. In addition, the European Union's headquarters in Brussels opens the door to many aviation-related jobs.