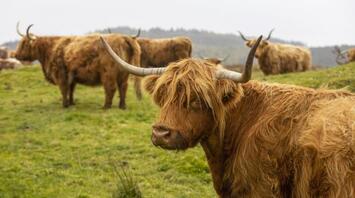 Highland cows. Source: The Herald
According to the National Tourism Organization, the number of tourists coming from all over the world to see Scotland's famous Highland cows is growing.
Farmers who work with the animals for tourists say they have seen more and more foreign visitors this year, especially Americans. Despite the name, Highland cows can be found all over Scotland from its northernmost point to the borders south of Glasgow, The Herald writes.
Bealach na Bà
This is a coastal road where you are guaranteed to see animals grazing freely. It is a place that symbolizes the images that usually arise when you think of the Highland cow.
The road runs between Applecross and Shieldaig in the Western Ross, one of the most famous roads on the North Coast 500. As it is located on a peninsula, it provides an opportunity to see animals against the backdrop of stunning sea views.
Cow Hill
Cow Hill on the edge of Fort William got its name from the cattle that have been kept here for generations by Highland farmers. Glen Coe and Ben Nevis, located nearby, are also major Highland cow-watching spots, meaning you can easily tour the area and see lots of cows.
Aberdeenshire
You don't have to go too far into the Scottish countryside to see a Highland cow, there are many places in Aberdeenshire that are relatively close to the country's third largest city.
The Macallan distillery has its own herd of cattle and combines two icons of Scottish tourism.
Kincardine Castle is another tourist center in the county that allows guests to celebrate both a historical site and a natural wonder in one visit.
Pollok Country Park
The park is home to about 50 Highland cows, and a dedicated team of animal keepers offers guided walks and the opportunity to see how the animals are fed and cared for.
Coos and Ewes Kitchen, Dumfries and Galloway
This farm in Wigtownshire has already received 2000 visitors. This is another place that offers buggy tours, with the opportunity to see the Highland cow in the very south of Scotland