Historical shock: Workers cause damage to the Great Wall of China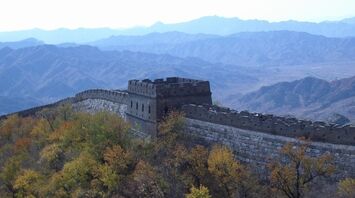 Great Wall of China. Source: wikipedia
In the Chinese province of Shanxi, there was a loud scandal because workers damaged the famous Great Wall. They destroyed a part of the architectural monument trying to pave a shortcut for construction equipment.
Local authorities blamed a couple, a 38-year-old man and a 55-year-old woman, who were working nearby. In the end, they were accused of leaving a "big gap" in the famous building, according to the DailyStar.
The incident occurred during construction work. The defendants claim that they were trying to make a shortcut for themselves.
It is emphasized that the couple, with the help of a digger, dug a gaping hole in the ancient monument, one of the Seven Wonders of the World. Now, instead of a piece of wall, there is a road where construction equipment used to drive.
As the man and woman confessed to the police, they destroyed part of the architectural monument to reduce travel time. According to them, they damaged the wall so that their excavator could pass through it.
The couple has already been detained by law enforcement agencies in the central province of Shanxi. The case is currently under investigation.
Great Wall of China
The oldest parts of the wall date back thousands of years, so they are strictly protected. Since 1987, it has been a UNESCO World Heritage Site.
The Great Wall of China, with a total length of 21,196.18 km, begins on the east coast and stretches to the distant western deserts, winding through 404 cities in 15 provincial regions of northern and central China.
It is one of the most prominent and famous architectural monuments in the world, attracting millions of tourists.