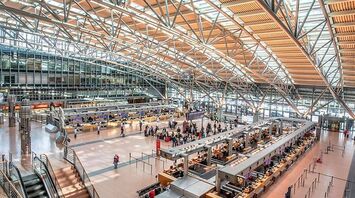 Hamburg International Airport. Source: hamburg-airport.de
Hamburg International Airport in Germany has been closed in an emergency on the afternoon of October 9.
The reason for this decision is the fear of a possible attack on the plane that arrived in the morning from Tehran, the airport administration said. Since 12:40, there have been no takeoffs or landings.
"Due to the measures taken by the federal police, takeoffs and landings are not possible for a short time. There may be flight delays. Please follow the status of your flight," the message to passengers reads.
It is noted that the federal police received an email with threats to attack the Tehran-Hamburg flight. Against the backdrop of the military escalation in the Middle East between Israel and Palestine, this threat is taken very seriously.
The flight from the Iranian capital landed in Hamburg at about 12:20 p.m. and is now in a special zone.
The 198 passengers and 16 crew members have already left the plane and are now undergoing security checks in a separate area. The aircraft and baggage will be searched.