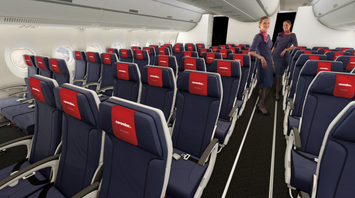 Corendon Airlines airplane. Source: nieuws.corendon.nl
Turkish-Dutch Corendon Airlines has become the first airline in Europe to test a special section for passengers aged 16 and older, i.e. an "adults only" zone.
This unique zone will be available on test flights between Amsterdam and Curacao starting November 3, 2023, the airline said in a press release.
What is an "adults-only zone"?
The concept is quite simple: to create an environment where passengers who want a more relaxed and quiet journey will get exactly that.
To provide an even more relaxed atmosphere, this specialized section is located at the front of the aircraft and is separated from the rest of the aircraft by walls and curtains, effectively protecting passengers from possible extraneous sounds.
On the airline's Airbus A350-900 aircraft, the Adults Only area boasts nine XL seats with ample legroom and 93 standard seats.
What's the nuance
This upgraded option will be quite expensive. For a one-way ticket between Amsterdam and Curacao, the privilege of getting a seat in the Adults Only area will cost an additional 45 euros, which is about $49 over the regular ticket price. An XL seat in this child-free zone will cost you an additional 100 euros, or about 108 US dollars.