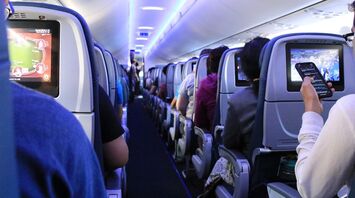 Not all exit row seats recline. Source: pixabay.com.
Many passengers think about a key offering on airplanes, which are exit seats. While these seats are often made available to travellers with loyalty status, other passengers can also reserve these seats for an additional fee.
However, there are both pros and cons of this choice. Let us tell you all the advantages and disadvantages of these seats
Advantages
Exit-row seats tend to offer more legroom than regular economy-class seats. On airplanes with over-wing exits, the pitch of exit row seats is 36 inches, which is five inches more than the rest of the economy cabin, which typically offers 30 to 32 inches of legroom. The reason for the extra legroom is to provide passengers with quick access to emergency exits in the event of an evacuation.
Another benefit of sitting in the exit row is that these passengers are often served first during service with drinks and food, depending on the airline and the specific seat location.
An exit-row ticket also entitles passengers to priority boarding on airplanes. This means that passengers can easily access overhead compartments to store carry-on luggage.
Disadvantages
Firstly, not all exit row seats recline. With two exit rows one behind the other, the seats in the first exit row are specifically designed not to recline. This is to ensure that nothing blocks the second row in the event of an emergency.
That said, to ensure a quick evacuation of the airplane, exit-row passengers cannot place carry-on luggage on their feet during takeoff or landing, similar to bulkhead seats. Bags will have to be stored in overhead lockers, which can be frustrating for some travellers.
Sitting in the row at the gate, passengers will not only be asked to help in case of emergency but also to take special precautions during the flight. For example, the curtains on the windows in the exit row must remain open during taxiing, takeoff and landing, and passengers cannot charge devices from an outlet in the seat during these phases.
Another restriction is that passengers sitting in the exit row may not be allowed to use headphones during takeoff or landing on some airlines. This is to make sure passengers can clearly hear the flight attendants' instructions in case of an emergency. Almost 80% of accidents occur in the first few minutes after takeoff or in the last few minutes before landing, as these are the most critical stages of the flight.