Attention, tourists: how to avoid problems with transportation tickets in Europe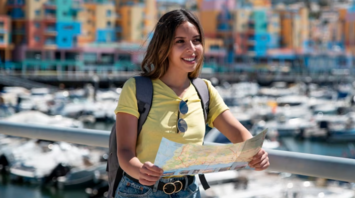 Tourists in the city. Source: Freepic
Long-distance travel, especially across the ocean, has its own peculiarities. Sometimes tourists get into trouble when they encounter completely unusual rules.
In particular, on TikTok, experienced tourists say that anyone who uses public transportation in Italy and some places across Europe can be fined if they do not check their printed tickets, according to the Dailymail.
It is emphasized that inexperienced tourists can be fined 40 euros in Italy if they do not print their travel documents in time. "If you are traveling by regional trains and buses (buses, especially in Rome), be sure to "check" your train/bus tickets," tourists are warned.
In addition, tourists are also warned that after you have purchased your printed tickets, look for yellow validation machines before you board the train. Simply insert your ticket into the slot until you hear a distinctive sound, because only then can you travel.
Users are also warned that in order to travel, you must have a validated ticket and a time stamp on it. Moreover, Italia Rail reported that if your ticket is not confirmed, you can be fined up to 200 euros while traveling in Europe.
"If you have an e-ticket or an e-ticket with 'ticketless' confirmation, you can simply board the train without printing or checking it," the Italian railroad said. The network warns that many tourists have already fallen victim to this rule.
It's worth noting that the same rule applies to buses, so controllers can be especially strict with the rules in Rome. "The yellow checking machines are inside the bus. Check your ticket as soon as you get on before you get on," tourists are advised.
On the web, you can find stories of how more than ten tourists, mostly families, were asked to get off at the next stop and pay a fine during one bus ride.
Tourists also shared their impressions of unexpected rules in Italy: "Imagine that your ticket is invalid after you bought it. Such a trap for tourists", "They tried to arrest us and demand a fine because our ticket was not stamped".
In addition, experienced tourists gave some useful tips on how to deal with an emergency. "Sometimes machines run out of ink and don't print. In this case, either use a pen to write the time, date, and station, or find the train conductor first," they write.
But at the same time, travelers agreed that ticket verification is necessary only for paper tickets. "If you buy your tickets online (trenitalia), you don't need to check both regional and high-speed tickets," they added.