A profitable deal for this British cruise that feels like the Caribbean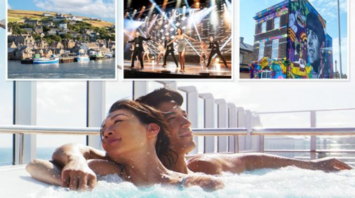 A British cruise that makes you feel like you're in the Caribbean. Source: The Sun
You don't have to sail to the Caribbean to enjoy a fascinating cruise, as there is a more favorable offer for the British.
A bargain trip on P&O's Britannia takes us from Southampton to Glasgow with a stop in Liverpool. Along with the entertainment from Imagine Cruising, you will enjoy free performances by top-notch celebrities, The Sun writes.
"It's hard to believe that a luxury trip will cost less than £60 per night, which includes an almost round-the-clock buffet and a huge selection of activities on board," the author of the article writes.
He goes on to describe the ship he has been on himself. The ship is 1082 feet long and has 17 decks. The Britannia boasts four swimming pools, a luxurious spa, a gym, a casino, a library, a cinema, and even a basketball court.
But the real heart of the ship is the Headliners Theater, where passengers enjoy many exclusive celebrity performances.
The itinerary also includes many excursions in port cities and visits to chic restaurants to suit different tastes.