A gang of fake beggars makes money on the streets of a British resort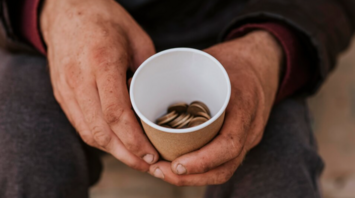 Begging. Source: Freepic
In the famous British city of Bath, Somerset, a gang of professional beggars is practicing. They are noticed with branded accessories or driving nice cars.
A group of beggars consists of about 10 people. It is said that these "homeless" can earn up to 500 pounds in a day, The Sun writes.
The popular British city is filled with tourists and is known for its Roman baths and Abbey, picturesque streets. Tourists also like to visit restaurants and various commercial centers here, which is to the benefit of beggars.
According to the newspaper, fake beggars come to the city center in a Mersedes car. With signs in their hands, they ask for alms at the most popular tourist spots in Bath.
After that, the group of dealers returns to their home, probably in a high-rise building in neighboring Bristol.
The police have already been called because of the situation. They fear that gang members are forced to give their income to their bosses.
All law enforcement can do is fine beggars and ban them from returning to a certain place for up to 48 hours.
However, according to the newspaper, such punishment is of little use: fines often go unpaid.
The publication notes that the vagrant was also spotted with a designer bag before he took off his shoes and sat on a blanket.
During the observation of the beggars, two women were also spotted basking on a bench on a warm day. They were later joined by two male beggars and a third man wearing dark glasses, a denim jacket and jeans.
According to The Sun, one of the gang members drove away in a blue Mercedes with a personalized license plate.
It should be noted that fake beggars have also been mentioned in Tripadvisor reviews before, claiming that people also set up tents in car parking lots.
"Professional beggars" can earn more than £50 a day, which means that the gang could be making £500 a day or even £10,000 a month, police said.