A camera has appeared in Leicester city center that will "catch" wrongly parked drivers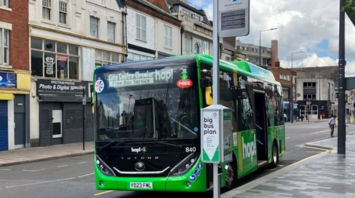 Bus on this route. Source: Leicester City Council
A camera that will "catch" wrongly parked drivers has appeared at a bus stop in the center of British Leicester. The city council allocated about 25,000 pounds sterling for this project.
This is about the bus stop near the Haymarket bus station. Drivers are not allowed to park there. The device will monitor the lane for five years, reports Leicestermercury Live.
The stop is part of a free circular bus route recently introduced by the municipality. However, it is often blocked by ordinary drivers.
This behavior on the road causes traffic jams and, as a result, slows down bus travel times.
Any vehicle caught in this lane will now be fined £70.
"Keeping the space free for buses also means buses will be able to pull up to the kerb, which is important for passengers with limited mobility. The bus route takes passengers from/to Leicester train station, the market, Highcross shopping center, Leicester Royal Infirmary and Nelson Mandela Park. They seat 21 passengers each and run every 10 minutes," said Leicester's Deputy Mayor for Climate, Economy and Culture, Councillor Adam Clarke.