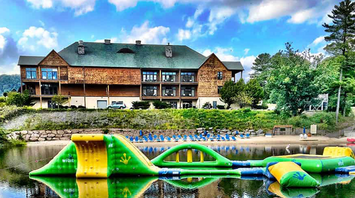 All these features of the Poconos have made it a great place for families to spend time together. Source: smartertravel.com
The Pocono Mountains and the surrounding areas, collectively known as the Poconos, have long been an integral part of tourist routes on the East Coast of the United States. This is largely due to their accessibility: they are only a few hours' drive from New York or Philadelphia. They have acquired a special romantic atmosphere thanks to the honeymoon culture that has become part of the Poconos, along with picturesque views and extreme hobbies. All these features of the Poconos have made it a great place for families to spend time together. The weather is conducive to exploring the wilderness by hiking or rafting, and children can find fun activities at the water park or adventure courses. Poconos is also attractive in winter thanks to skiing, snowmobiling, snow tubing.
The resorts in the Poconos are a great refuge from the hustle and bustle of the city with a wide range of activities and a calming atmosphere. The area consists of magnificent valleys and hills, alternating rugged mountain landscapes and massive tracts of dense forest, rushing rivers and beautiful waterfalls. There is something for every season: family ski resorts, hiking in the picturesque open spaces, walks through charming lakeside villages, and modern indoor water parks. If you are looking for luxury resorts in the Poconos, Pennsylvania, we have compiled a list of the 11 best.
1. Lodge at Woodloch, Hawley
This luxurious lodge often tops the top Poconos resorts list and is widely regarded as one of the finest 4-star resorts in Pennsylvania. It covers more than 150 acres of unspoilt nature right down to the shores of the private Little Tiduscong Lake. It has gourmet restaurants, a swimming pool, recreation areas and a world-class spa. But the main focus of the resort is wellness programmes and seminars.
Guests comment positively on its cosy suites, most of which come with private verandas, large separate rain showers and marble baths. The resort has a total of 58 spacious rooms with panoramic windows. A variety of activities are available for guests: yoga, tai chi, art and cooking classes. TREE, The Lodge at Woodloch's on-site restaurant focuses on organic cuisine.
The resort is popular with couples and friendly groups and accepts guests only over 16 years old.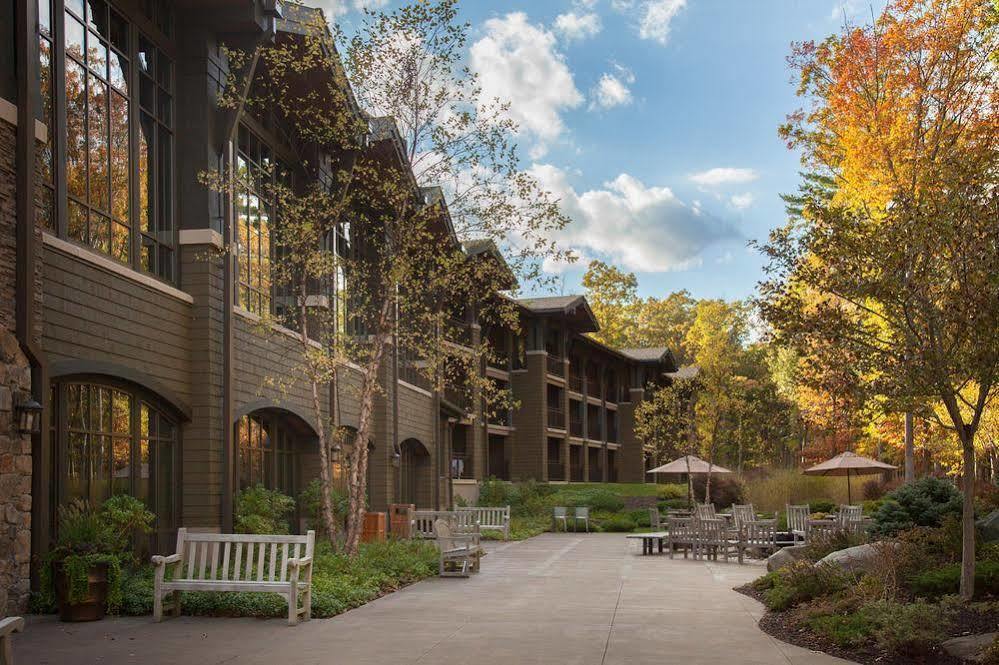 2. Hotel Fauchere, Milford
This is one of the few 4-star hotels in the Poconos. They pay attention to detail, considering it fundamental to the art of hospitality. Located in Milford, an hour and a half by car from New York City, this boutique hotel is housed in a historic building lovingly restored with modern materials that has not lost the charm of a 19th-century hotel. The hotel has a total of 16 rooms and suites. This is a first-class hotel with the appropriate service: Molten Brown toiletries, bed linen, bathrobes and Frette towels are served in the room. The rooms are equipped with flat-screen TVs, coffee makers, split control systems, marble bathrooms with underfloor heating.
Hotel Fauchère offers its guests gourmet cuisine in the Delmonico restaurant, the stylish Louis beer bar, walks in the private greenhouse and garden. Breakfast is included in the room rate.
If you want to diversify your leisure time, choose from the local offerings: golf, fishing, horseback riding, massage or archery. The hotel is pet-friendly, but it's best to discuss your pet in advance when booking.
3. Woodloch Pines Resort, Hawley
This resort has been voted the №1 family resort by USA Today readers in the Top 10 Best Resorts of 2021 and is regularly ranked not only among the top Poconos resorts, but also in the United States. It is open all year round, has an extensive programme of events for every season and extensive golf courses.
The resort's rooms offer stunning views of the pristine lake, and the dense forest around adds to the atmosphere of unity with nature. Here you can walk along scenic trails or go for a bike ride, go kayaking or rock climbing and play golf on the 18-hole course. There are swimming pools on site, one indoor and one heated outdoor. Children will not be bored either. Younger guests can go bumper boating, carpooling or go-karting or take a dip in the children's pool. In winter, snowshoeing, snow tubing and ice skating are available at the resort.
There are up to 30 family activities and games daily, including craft and art rooms, nightly entertainment (music shows, theatre performances and concerts), and family team building.
This hotel offers accommodation options for large groups of up to 12 people in two-bedroom suites with extra beds and two balconies or patios. All-inclusive meal plan is available.
4. Silver Birches Resort, Hawley
This place has long been one of the best Poconos resorts in the Poconos, and its recent restoration confirms the owners' commitment to maintaining this tradition. The beautiful three-star coastal hotel is located right on the shores of Lake Wallenpaupack and is a real embodiment of the idea of a lodge holiday. This is an option for a quiet time and relaxation. Activities available here include fishing, kayaking, canoeing, shuffleboard and swimming in the lake. There is also a seasonal swimming pool.
Guests can stay in self-contained cottages, fully equipped with the necessary appliances, and houses for large groups. The cottages have old-fashioned verandas where you can sit on classic Adirondack chairs and admire the beautiful lake views during the day or enjoy the starry sky in the evenings. The room rate includes breakfast and weekly seasonal cooking. The rooms have a master bedroom with a king-size bed and a second bedroom with bunk beds, large bathrooms and necessary appliances. There are also rooms with one bedroom and a king-size bed, popular with couples who come here for a romantic getaway.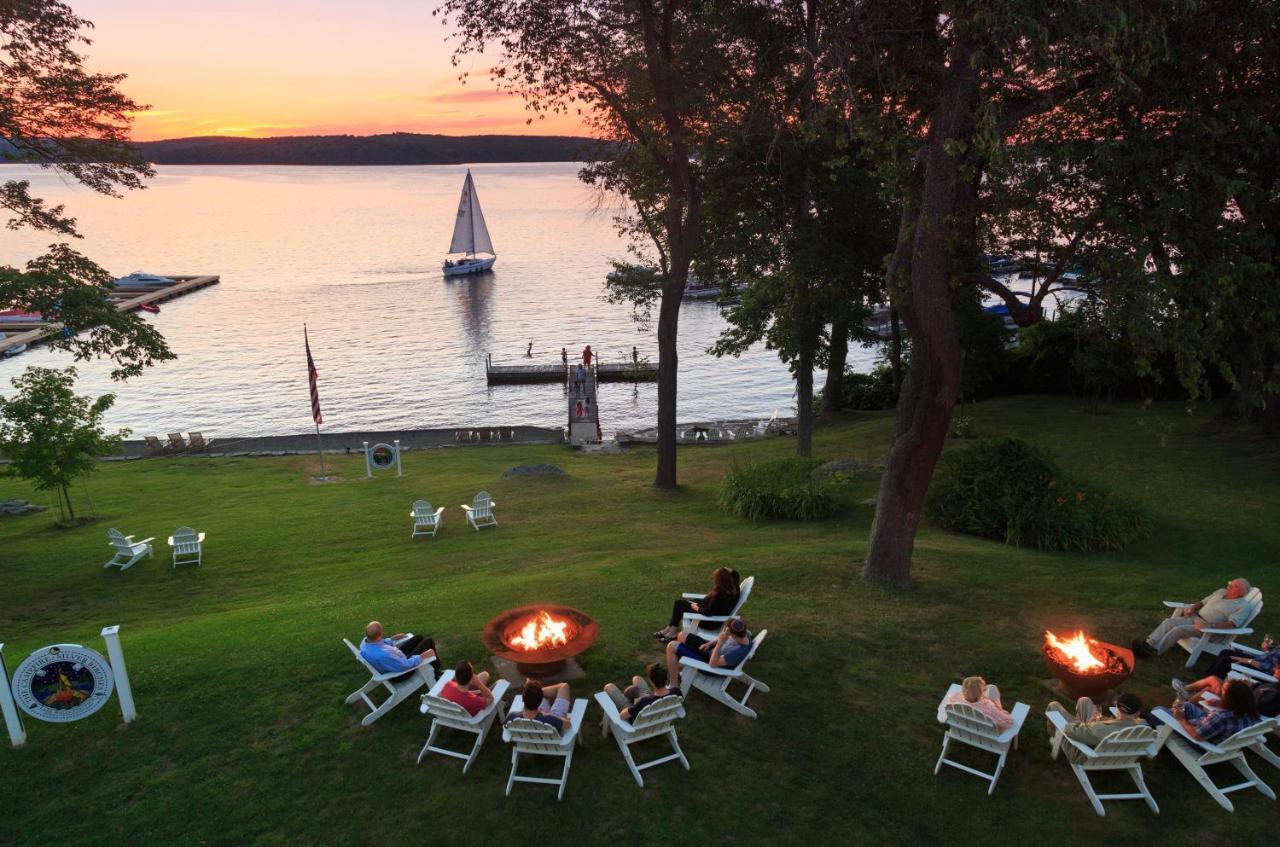 5. The Woodlands Inn, An Ascend Collection hotel, Wilkes-Barre
The three-star boutique hotel is part of the Ascend Collection and is perfect for those seeking seclusion away from the big resorts. It is in demand both for family holidays and for romantic weekends or business events. The package includes airport transfers and a buffet breakfast.
It is worth coming here for an atmosphere of serenity and tranquillity combined with good service. The resort offers a fitness centre, two swimming pools (indoor and outdoor) and a Jacuzzi. There are 2 restaurants and 3 bars, the Evolution nightclub, conference rooms for business meetings and ballrooms for celebrations, beauty salons and spas, and basketball courts. Guests with children can take advantage of the babysitting service.
The rooms come with either two double beds or one king-size bed. The latter option is especially good when travelling with children, as these rooms also have sofa beds in the living room and a kitchenette equipped with a fridge, microwave and dishwasher.
The hotel has a number of rooms designed for guests with reduced mobility. Some rooms are also pet-friendly.
6. Skytop Lodge, Skytop
It opened in 1928 and still maintains the charm of a classic family resort with activities for all four seasons. Many of the best resorts in the Poconos have impressive grounds, but this one outshines them all with its size - more than 5,500 acres of manicured lawns, manicured meadows and unspoilt nature. This space provides advantages for organising possible entertainment: hiking, horseback riding, paintball, swimming, fishing, kayaking, tennis and the main attraction - a golf course with a clubhouse with a large stone fireplace, a professional shop and a restaurant. Guests of the Skipton Lodge can also visit the outdoor pool, spa and several restaurants and cafes.
Accommodation is provided in the hotel in 19 elegant rooms with a fireplace, balcony furniture and a fridge. There are two more luxurious suites with built-in Jacuzzis. Guests can also stay in cottages with four separate guest rooms and verandas.
7. The French Manor Inn & Spa, Newfoundland
What better place for a romantic getaway than an upscale resort in the Poconos with the atmosphere of a French chateau? Incredibly picturesque, with elegant rooms, gourmet French cuisine and amazing views - this is a holiday to remember for a lifetime.
Many Poconos vacation resorts provide first-class service and a comfortable location, but only this one combines them with the experience of living in a stone castle. It's the perfect place for a romantic weekend: visit the spa with your significant other, enjoy a couples' massage by the fireplace, browse the impressive art collection, and then head out for a romantic dinner in the restaurant or on the terrace. Guests have access to hiking and biking in nearby state parks, golf and horseback riding, a heated saltwater pool and steam sauna, yoga classes, a library and a bar.
Rates include French-style apartments with TVs and air conditioning, as well as breakfast. The deluxe rooms have gas fireplaces, mini-fridges, private balconies and Jacuzzis.
8. Stroudsmoor Country Inn, Stroudsburg
This is the place for a family or romantic getaway where the splendour of nature and comfort go hand in hand. The historic 3-star boutique hotel offers a range of activities for couples and families to spend time with each other and nature, no matter the season.
There is a spa, art gallery, swimming pool and fitness centre on site. The main building of the hotel offers spacious suites with double beds, marble rooms with Jacuzzi, living room with fireplace and balcony. There are also apartments with several bedrooms and separate rooms with large living rooms, fireplaces and furnished verandas. The hotel's interiors feature elegant antique furniture, particularly in the restaurant and lobby. Breakfast is included in the room rate, and there is an on-site restaurant where you can enjoy a seafood buffet or traditional American and European cuisine.
Stroudsmoor is also popular as a wedding venue and boasts five rooms for ceremonies and special events.
8. Great Wolf Lodge Pocono Mountains, Scotrun
It's worth coming here if you're planning a holiday with children, because Great Wolf Lodge combines the best features of a three-star hotel and a theme park. There is an indoor water park with a large collection of slides for all ages - 50 different entertainment and attractions - and activities for children. And while they're supervised, parents can work out in the fitness centre or enjoy the full-service spa. Afterwards, the whole family can visit the restaurant and enjoy ice cream at the on-site café. A swimming pool, bar, bowling alley, free parking, indoor playground and games room, and family dance nights are also available to guests. The resort has day passes with full access to the water park.
You can stay here in premium family suites with two king-size beds, a living room with an extra bed, furnished terraces or patios and all necessary appliances. There are also themed suites with two single beds and children's bunk beds.
The hotel's restaurants pay special attention to guests with dietary requirements and restrictions, including the creation of peanut-free cuisine for allergy sufferers.
9. The Shawnee Inn & Golf Resort, Shawnee, Delaware
Another luxurious lakeside resort in the Poconos for those looking for a quiet, comfortable getaway. This classic, family-run resort was built in 1911 and is notable for its ability to accommodate very large groups.
It offers its guests several accommodation options: 80 rooms and suites and several self-contained cottages overlooking the Delaware River. The suites have luxurious decoration and furniture, natural wood floors and a jacuzzi. The self-contained cottages can accommodate up to 24 people at a time. There are also several extraordinary yurt-style rooms.
This is a resort with a classic, sophisticated setting and plenty of leisure options. Guests can enjoy a swim in the indoor pool, sunbathe on the terrace or private beach, or relax in the Jacuzzi. There are basketball and tennis courts, a golf course, a wellness centre, and workout and archery facilities on site. There are also a few extra nice bonuses: valet, concierge and complimentary daily newspaper delivery. Children can spend their time in the arcade, playground or games room.
10. Kalahari Resorts - Poconos
Everything under the roof of a Kalahari resort is decorated in authentic African style. These Poconos resorts are known for their theme park - the largest indoor water park on the East Coast with an area of 200 thousand feet. It is equipped with a retractable roof, water slides and a jacuzzi, a lazy river, and a wave pool. Adults can sit with drinks at the bar at the water park's edge while children play on the slides.
Other facilities at the resort include an arcade room and virtual reality gaming area (you can even ride a water slide in VR), a cinema, mini bowling alley, outdoor activities such as cable cars, rope park and mini golf, spa and halo therapy services, a restaurant and retail shops. There is also an outdoor water park on site. Entrance fees are included in the room rate.
The resort has a huge number of rooms and suites (almost 1000) with several large beds, two hot tubs, a living room with a fireplace and a bar. Private houses and bungalows are also available for rent.