Most popular Half Moon Bay sights and things to do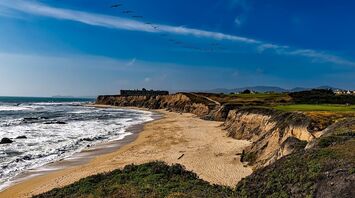 Half Moon Bay is a city of beaches. Source: Image David Mark/Pixabay
Half Moon Bay is a lovely coastal town midway between San Jose and San Francisco. Here, you can enjoy some of the best views of California, including the Coral de Tierra Ranch mountains, the towering redwood forests that are the pride of the state, and a large number of beaches that beckon when the warm sun begins to warm up. Despite the fact that the city is located next to San Francisco, the journey seems longer because you can only get here via a winding rural road. If you decide to make a trip here, the following list will help you find things to do in Half Moon Bay and how to spend an unforgettable time.
1. Walk along the beach of Half Moon Bay State
There are four beautiful beaches along the coast, which stretch for several miles of coastline. Even if the weather isn't great, locals and tourists alike often visit this location to simply take a walk, go fishing, or have a picnic on the sand near the water. You can also stay here in a tent on specially equipped camping sites. Sweetwood Group is located next to Venice Beach. The campsite is equipped with hot showers, and you need to book in advance, as this location is quite popular.
Sightseeing in Half Moon Bay is best left to September and early November, when the weather is most favourable for walking. It is worth noting that the ocean is quite cold at this time, so most people come here to dive in a wetsuit or try to conquer the restless waves of the bay on a surfboard.
2. California Coastal Trail
Activities in Half Moon Bay must include hiking or cycling along the picturesque coastline. In particular, a federally designated trail runs along the cliffs, sandy shores and even unspoilt habitats. While walking here, you can enjoy the blooming fields, meet various representatives of the California flora and listen to the loud birdsong.
The seven-mile-long trail starts at Pillar Point Harbour. If you start your journey from here, we recommend tasting the freshest seafood and local cuisine. Then the road goes on to Miramam Beach, one of the most popular sunbathing spots. There is also a high-class hotel here, where you can stay in three-star rooms with ocean views.
The trail also passes through the main beach and ends at the luxurious The Ritz-Carlton Hotel. If you're looking for places to eat in Half Moon Bay, there are several fine dining restaurants on site, offering delicious, exclusive food overlooking the bay. It is also home to some of the most famous golf courses in the world, including the Ocean Course, which is perched high on a cliff.
The California Coastal Trail is mostly paved, so it's easy to get around by bike, scooter or even wheelchair.
3. Cuddling with redwoods
Fun things to do in Half Moon Bay include a hike to Purisima Creek. Here you can hug one of the famous California redwoods, which are not so many left. Over the past century, many trees have been cut down, and special reserves, such as Purisima Creek, have been created to protect the rest.
Here you can walk along trails that are more than 25 miles long or just be in awe of the incredible redwoods that are over a hundred years old. The trails have different levels of difficulty, so you can choose a path to suit your taste and fitness level. It's worth bringing a snack to enjoy a picnic in a very picturesque place.
4. Pillar Point Harbour
This location is the perfect place to relax. The old wooden pier goes straight into the sea, and you can always see boats swaying peacefully on the waves and fishermen waiting for their catch.
What to do in Half Moon Bay, California? Pillar Point Harbour is the starting point for tourists who go to watch whales during their migration. An incredible phenomenon!
In addition, the harbour is home to several restaurants worthy of note. Among them:
Barbara's Fishtrap - a simple dining room with tables right on the beach, which is the most popular place among locals;
Sam's Chowder House is a restaurant with an outdoor terrace that serves the best seafood caught here and often features live music.
Nearby is Mavericks Beach, which is a mecca for surfers from all over the world. It is not surprising, as in some places the waves reach 30 feet, which is a great challenge for athletes.
5. Main Street - the heart of the city
The historic centre captivates with the cosy atmosphere of a quiet provincial town with its own charm. Hotels, local cafes and restaurants, a variety of shops - there is plenty to do in the Half Moon Bay area.
Main Street is the place where people most often go for shopping. There are bookstores, clothing boutiques, decor stores, and more. There are also a large number of restaurants on the main street, including the most popular ones:
Pasta Moon Ristorante - offers Italian cuisine, which uses seasonal products obtained from the surrounding farms and local fishermen;
Gulino Gelato with the most delicious Italian ice cream;
Panificio, serving traditional wood-fired pizza.
If you want to stay in the heart of the city, you can book a room at the Mill Rose Inn, whose greatest pride is a beautiful garden with many different varieties of roses and other flowers.
By visiting The Visitor Centre, you can find out about all the interesting places to visit in Half Moon Bay, routes and trails.
6. Pigeon Point Light Station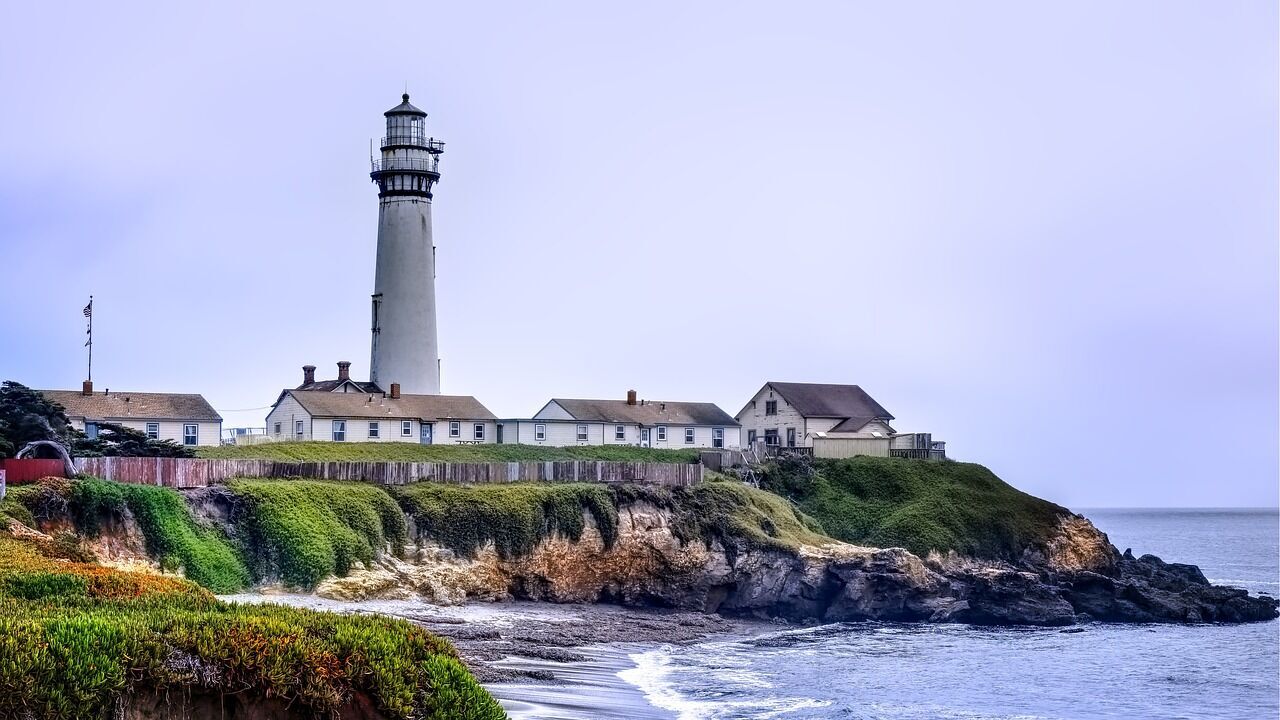 The state historical park is a tourist attraction in Half Moon Bay. In 1817, one of the tallest lighthouses in the United States, Pigeon Point, was built on local rocks, standing 115 feet high.
The state park has a visitor centre, and you can also stay overnight at the atmospheric HI Pigeon Point Lighthouse Hostel. It is housed in buildings that were once used by the lighthouse staff.
If you're looking for things to do in Half Moon Bay, we recommend snorkelling in the coastal areas and near the rocky reefs around the light station to watch the active marine life. You can also often see seals or whales here, but only between January and March. In addition, interesting excursions are held daily on the territory of the Half Moon Bay - Pigeon Point Light Station attraction, which must be pre-booked. Unfortunately, you cannot visit the lighthouse itself.
7. Lemos Farm
What to do near Half Moon Bay with kids? Lemos Farm is a popular place to visit. Here you can not only see, but also pet rabbits, sheep, pigs, goats and other animals in the petting zoo. Children will also be especially pleased with the cute ponies that they can ride.
There is a Haunted House on the farm, but it is more funny than scary, and has been operating since the 1980s.
Half Moon Bay: what to do on the farm?
Among the interesting activities are the following:
interactive attraction "Digging Zone", where you can play with an excavator;
inflatable slide "Barn";
a train ride through different parts of the farm;
"Goat Yoga" - classes for children aged five and over.
Special events take place on holidays. For example, the Pumpkin Patch is dedicated to Thanksgiving, and on Easter Sunday, children can join the Easter egg hunt.
8. Enjoy nature and local produce at Pescadero Farms
This rural area is spectacular with beautiful scenery - forests, hills and beaches. About 17 miles to the south is the community of Pescadero, where there's plenty to do close to Half Moon Bay, California.
It is home to a large number of farms that supply the freshest produce and highest quality meat to local markets. We advise you to visit Arcangeli Grocery Co if you want to buy delicious snacks for a picnic on the beach.
You can buy cheese and other farm products at Harley Farms Goat Dairy. Tours are often held here; children will especially enjoy visiting the little goats.
In the centre of Pescadero is the unique award-winning restaurant Duarte's. You should definitely try the famous artichoke soup.
Among the attractions of Half Moon Bay is the Pescadero Marsh Nature Reserve, which covers more than 230 acres. There are four hiking trails here, and on the first and third Sundays of the month, you can sign up for interesting excursions.
Two miles from the town is the small sandy beach of Pescadero State Beach, which is protected from the piercing winds by rocks.
9. Pumpkin season in October
The city has the title of "world pumpkin capital", so in autumn, the top 10 things to do in Half Moon Bay necessarily include entertainment related to this unique product.
Farms offer a variety of activities:
pumpkin carving;
pony rides;
amusement rides;
petting zoos, etc;
mazes, etc.
Families from all over the South Island and San Francisco go in search of the perfect pumpkins for Halloween. In mid-October, the most anticipated event takes place - the Half Moon Bay Art & Pumpkin Festival. The festival is held on Main Street and features giant pumpkin competitions and carving of sculptures and carved lanterns.
10. "Grey Whale Bay"
About ten miles north of Half Moon Bay is this fantastic location. The Gray Whale Cove Trail is a roughly two-mile-long trail that winds through hillsides and meanders along steep ocean bluffs and sandy shorelines. If you're thinking about things to do in Half Moon Bay, this walk is a great option.
During the migration season, you can see grey whales, which is why the route has such a name. The trail is lined with typical coastal vegetation, such as wormwood and poison oak, and offers views of the San Pedro Mountains and the incredible Pacific coastline. In spring, the path is covered with bright flowers - irises, buttercups, and hollyhocks.
If you take a shorter trail, you can go down to the cove and get to Gray Whale Cove State Beach with picnic areas nearby.
11. Fitzgerald Marine Reserve
If you want to find places to visit outside of Half Moon Bay, then you should head to Moss Beach, a community seven miles from the bay. It is home to the Fitzgerald Marine Reserve, where you can get to know the marine world. There are pools filled with crabs, starfish, hermit crayfish, and other interesting inhabitants between the tidal zones.
In the southern part of the reserve, a hiking trail begins, passing through the amazing Monterey cypress grove. In the sandy bay in spring and winter, you can spot the famous grey whales. In the rest of the year, you can watch brown pelicans.
12. Sea elephants in Año Nuevo State Park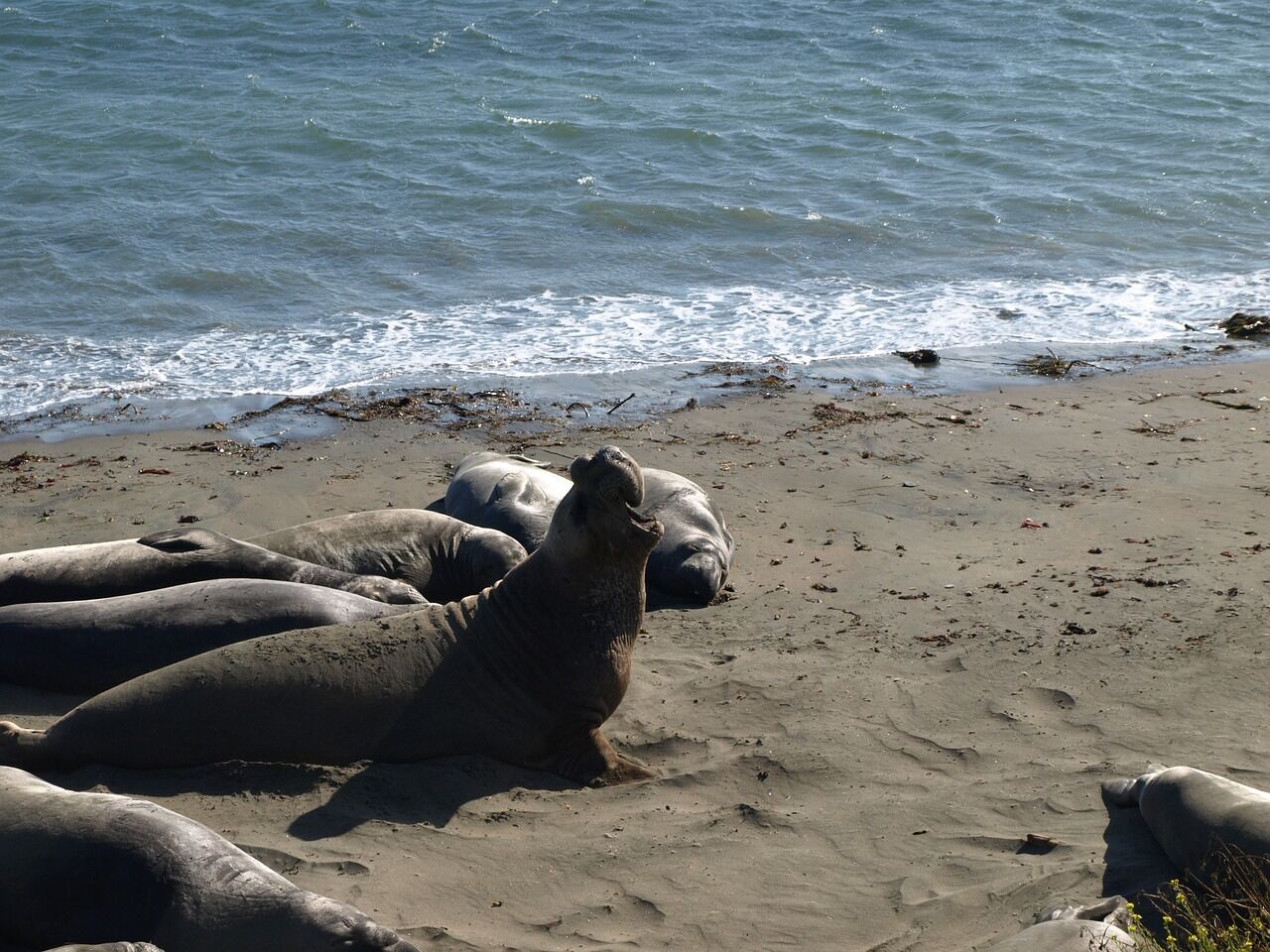 To the south of the bay is a large state park, which is a nature reserve that impresses with its dunes, beaches and other lands. There is certainly plenty to do in Half Moon Bay, but it is in Año Nuevo that a unique event takes place every winter.
From December to March, thousands of sea elephants arrive here! This colony is the largest in the world and includes more than 10 thousand individuals. The animals arrive on the dunes and beaches of the reserve to breed and give birth to calves. You will definitely be surprised by the size of these seals, each of which can weigh about three tonnes or even more. If you're lucky, you'll be able to watch a new baby seal being born.
From April to August, the "molting" season lasts, when sea elephants shed their outer layer of fur and relax on the beaches. This spectacle is both funny and fascinating.
It is worth considering that the reserve is open to the public from December to April by prior reservation. The rest of the time, you can enter the territory only with special passes.
Have you decided what to do in Half Moon Bay, California?