Virgin Islands resorts: the best hotels on the Caribbean coast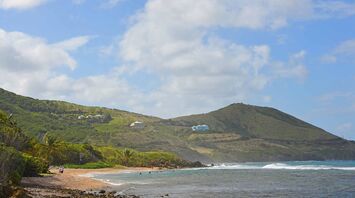 Stunning sea views. Source: Image Villa Margarita St. Croix Vacation Rentals/Pixabay
The Virgin Islands archipelago is located to the east of Puerto Rico. The "American paradise" is characterized by extraordinary beaches, hills covered with lush vegetation, dark blue waters, a large number of parks, and, of course, the best hotels and even luxury shopping centers.
From St. Thomas and St. John to private islands, everyone can find the perfect place for an unforgettable vacation. If you are looking for a place to spend your vacation, the following selection of top resorts in the US Virgin Islands will definitely come in handy.
1. Ritz-Carlton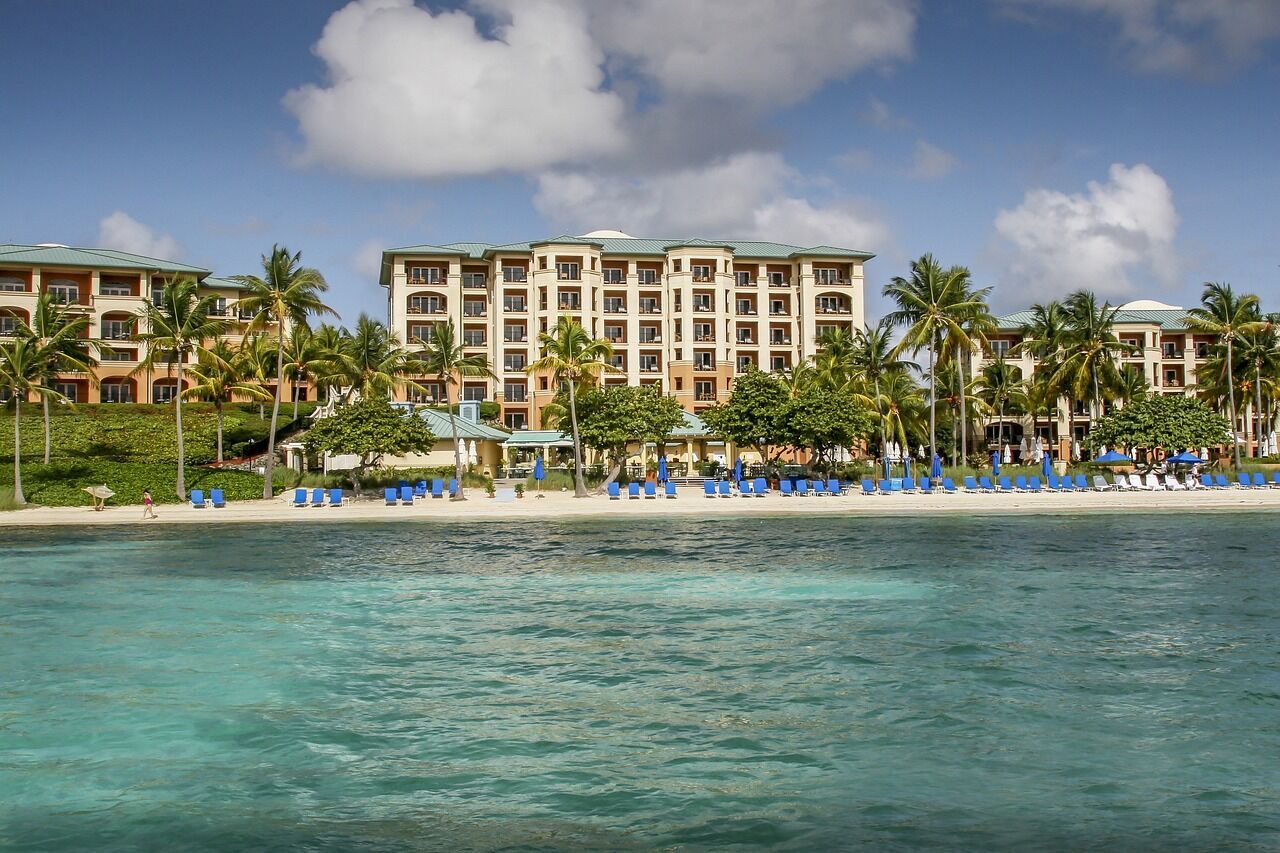 One of the most luxurious resorts in the US Virgin Islands is located on the island of St. Thomas, which is the capital of Charlotte Amalie. The hotel is located on the Turquoise Bay coast and occupies 30 hectares of coastline. The Ritz-Carlton is also located just 30 minutes from the airport. Facilities available to guests include:
a family pool with a huge water slide and another landscape pool, which opens your eyes to an incredible view;
tennis courts;
private beach with a club, including equipment rental for various water sports;
gym;
cruises and various excursions aboard a 55-foot catamaran owned by the hotel complex.
The resort can be visited with children, and the Ritz Kids program is available for them, offering a variety of daytime and evening activities for children aged 4 to 12 years. In addition, babysitting services are available.
You can stay in magnificent rooms or suites with balconies or terraces. Regardless of the choice, each of them offers a magnificent view of the Caribbean Sea. The Ritz-Carlton has four restaurants, the most popular of which is Alloro. It serves excellent Sicilian cuisine.
2. Limetree Beach Resort by Club Wyndham
This hotel is located on the shores of Frenchman's Bay in St. Thomas and is one of the top US Virgin Islands resorts. It covers an area of 24 hectares, which includes a large private beach with comfortable hammocks.
You can stay in classically decorated rooms or suites with balconies or patios that guarantee incredible views and a great vacation.
The complex has an infinity pool, several tennis courts and a large lounge area. Guests are offered a variety of water sports activities. For example, snorkeling or scuba diving, etc.
There is a cafe near the pool and an in-house restaurant. In addition, barbecues or other special dinners are organized on the beach every week, and in the evening you can enjoy live music and fun entertainment.
3. Point Pleasant Resort
This complex is located on the territory of a nature reserve and occupies 15 acres of extremely picturesque terrain. The hillside on which the resort is located offers views of the Caribbean Sea and Water Bay.
The three-star hotel offers accommodation in spacious villas. The apartments can accommodate up to six people, so they are perfect for a family vacation or a fun holiday with a group of friends. The villas include a kitchen and furnished balconies, and their highlight is the large floor-to-ceiling glass doors.
One of the best resorts in Virgin Islands offers an all-inclusive rate if you wish. This is a good idea if you want to minimize the number of worries and dive into your vacation with your head.
The complex has a kids' club suitable for guests aged 4-12. The center offers a variety of entertainment and educational activities, such as crafts, art or cooking classes. Adults and older children can enjoy snorkeling, kayaking and other sports.
Point Pleasant Resort has access to a beach, but not the best one on St. Thomas, as this part does not provide a convenient sandy entrance to the water. However, there are three swimming pools on the property, where you can have an equally pleasant time.
4. Secret Harbour Beach Resort
A white sandy beach, unforgettable views of the Caribbean Sea, and plenty of entertainment are not all that Virgin Islands resorts offer. Secret Harbor Beach Resort is ideal for a family vacation. The hotel offers a variety of accommodation options. These can be one- or two-bedroom rooms, individual villas on the hillside, and studios. All apartments have balconies or patios.
A special feature of the resort is its location. It is located on the eastern part of St. Thomas right on the beach and is surrounded by a calm bay, where swimming is a pleasure.
Facilities available to guests
You can use the free rental of non-motorized equipment, such as SUP boards or kayaks, or pay for the rental of jet skis or the popular Hobie cats. There are also tennis courts and a large fitness center and beach club on site. Maximum relaxation can be achieved by visiting the spa or yoga classes.
You can have lunch or dinner in the excellent restaurants. Sunset Grille serves delicious Caribbean cuisine, and Cruzan offers a menu with Polynesian elements.
Children have the opportunity to join the Kite Club, where they can learn to fly kites or take part in other fun activities.
5. The Buccaneer Beach & Golf Resort Trademark Collection
The resort is unique in that it has been welcoming visitors since the 17th century! The hotel on the island of St. Croix has a great location and is located just two miles from the city of Christiansted, which is rich in history.
The Buccaneer Beach & Golf Resort Trademark Collection offers a variety of exciting activities, so vacationers will never be bored. Among the available activities and amenities are the following:
two large swimming pools;
golf course;
tennis courts;
basketball and volleyball courts on the beach;
a variety of water sports (kayaking, scuba diving, including a free two-hour diving lesson).
Rooms are available for every taste: from villas on the first lines or on the hills overlooking the sea to rooms in an old mansion. Each of the apartments has a balcony or patio.
There are three restaurants on site that offer different menus. Also included in the room rate is a buffet breakfast with a large selection.
6. Bolongo Bay Beach Resort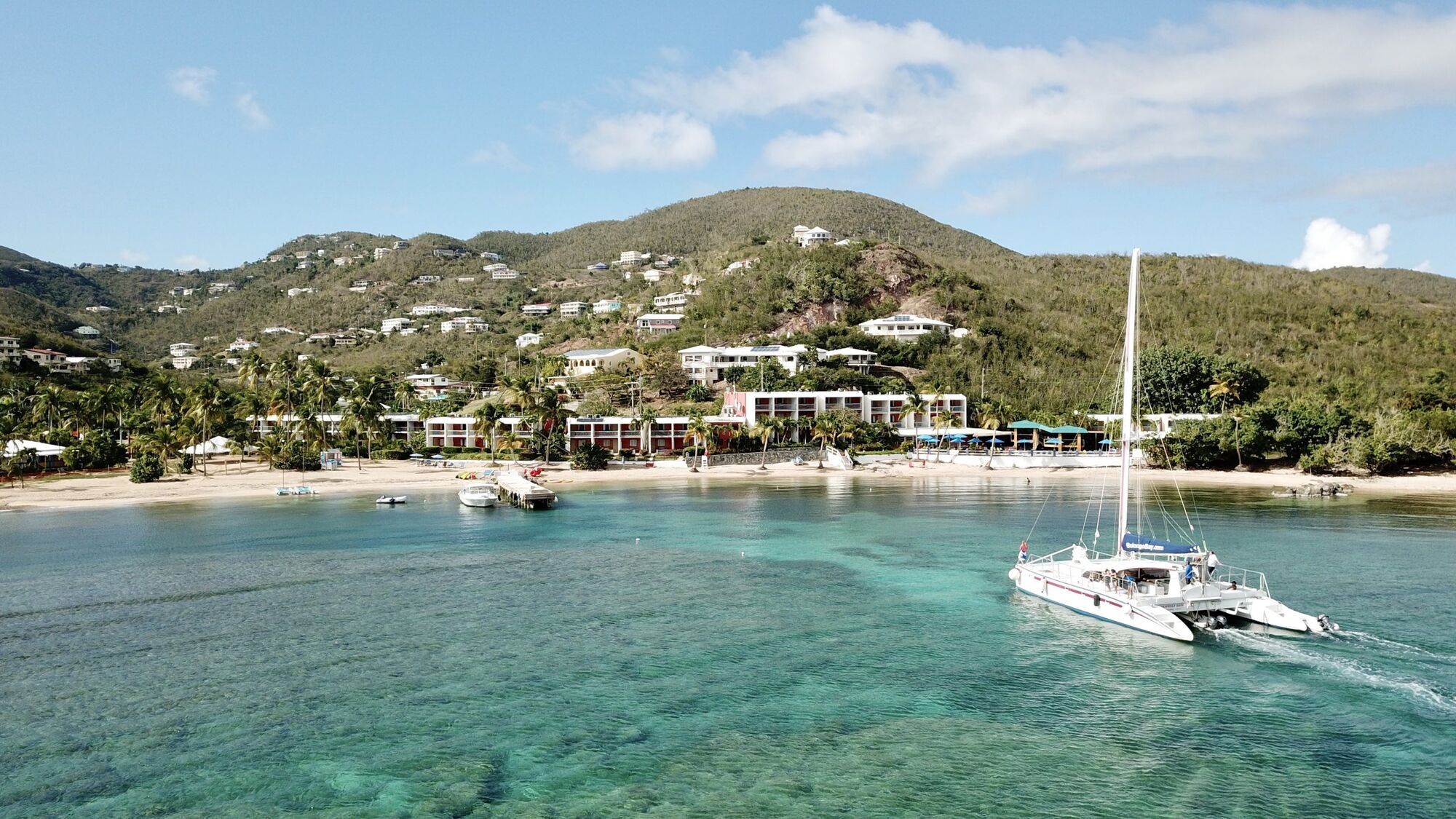 This resort, located on the island of St. Thomas, is all-inclusive, but it is also possible to book a room only without additional services. The hotel is located on a thousand-foot stretch of beautiful beach, and 25 rooms have direct access to it. There are also more budget-friendly rooms with Caribbean Sea views or the most favorable options that do not include such a view. The poolside restaurant Iggy's Oasis is open for breakfast, lunch and dinner.
Bolongo Bay Beach Resort is one of the US Virgin Islands best resorts for families, because in addition to a lot of entertainment, there is a free stay for children under 12 years old. There is a water park and several swimming pools on the territory, as well as tennis courts. In addition, the complex offers babysitting services or children's playroom.
We recommend going on a cruise on the hotel's own catamaran. The resort also offers a variety of excursions, including swimming with turtles, island tours, etc.
7. Emerald Beach Resort
Like the other best US Virgin Islands resorts on the list, this hotel boasts a beautiful sandy beach and incredible views of the Caribbean Sea. It is an ideal place for both family vacations and romantic getaways. You can stay in one of the 90 rooms, each of which has a balcony offering incredible views of the endless water surface.
Hotel amenities include three swimming pools, direct access to the beach and restaurants, the most popular of which is a fusion Caribbean restaurant. Adults can go snorkeling or kayaking. Children can be left with a babysitter if needed.
The resort is located just a few minutes from the center of Charlotte Amalie, so it is possible to go shopping or strolling at any time.
8. The Westin St. John Resort Villas
This hotel, which is deservedly one of the top Virgin Island resorts, is located on the picturesque island of St. John, namely in Great Cruz Bay. The complex features chic, spacious villas with one or two bedrooms or large townhouses that can accommodate up to eight adults. The apartments include a kitchen and a private balcony overlooking the ocean.
St. John is an island, most of which is a nationally protected park. That is why the hotel is best suited for those who choose an environmentally conscious vacation and seek maximum unity with nature. In particular, the resort offers services for organizing hikes or tours to the national park.
What can guests expect?
Hotel amenities include the following:
several swimming pools of different types;
Jacuzzi
four tennis courts;
rental of equipment for various water sports;
a golf course;
fitness and spa centers, including aerobics and yoga classes.
There is an on-site restaurant serving Caribbean cuisine, and it is also possible to order food and enjoy it in the privacy of your own terrace.
9. Gallows Point Resort
American Virgin Islands resorts are always about excellent service and an equally beautiful view. Especially when it comes to a hotel with a private beach surrounded by Cruz Bay. The four-star resort offers accommodation in luxurious, fully equipped villas with views of the harbor, a neighboring island, or the ocean.
There is a large saltwater swimming pool and a lounge area around it. A fitness studio is part of the complex.
It is worth noting that the hotel does not have its own restaurant, but you can visit Ocean 362, which serves dinners only and offers room service.
10. Lavango Resort + Beach Club
If you are looking for an unusual, but at the same time comfortable vacation, we recommend choosing this wonderful US Virgin Islands resort. It is located on a private island, so you can count on a confidential vacation.
The peculiarity of Lovango Resort is that you can live in a fully equipped glamping tent or in an incredible tree house. In addition, there are two beach clubs on the island, offering a lot of entertainment and interesting activities.
The resort is designed to satisfy almost any water sports-related need. You can use the equipment rental service or book an underwater excursion or fishing trip.
The complex has an open-air restaurant that offers not only delicious food but also a perfect view. In addition, you can visit Lovango Village, a small area of the island where there is an establishment that serves the freshest seafood.
11. Club St. Croix Beach & Tennis Resort
Not far from the historic center of Kristansted, this mid-range resort is located right on the beach. The complex on the small island of St. Croix has access to the beach, and guests are provided with free equipment for various sports, such as snorkeling or kayaking. There is also a swimming pool and jacuzzi, and the restaurant serves delicious local cuisine.
You can stay in suites or junior suites with private patios or balconies and an equipped kitchen. The best ocean views are from the rooms on the upper level.
12. Lindholm Manor
This family-run hotel with just 14 rooms is located in Cruz Bay in the Virgin Islands National Park. Guests can expect warm, personalized service, as the owner lives here with his family.
Estate Lindholm is an authentic vacation experience, a unique place that will give you many happy vacation memories. The apartments you can stay in have patios or balconies, and the rooms are furnished with modern and stylish furniture. Breakfast is included in the booking price. The complex has a swimming pool and a jacuzzi.
There are two beaches within walking distance, and the atmospheric village of Mongoose Junction with restaurants and several shops is ten minutes away.
13. Fred
The boutique-style hotel is one of the best choices for a beach vacation in Frederiksted. There are numerous restaurants and shops in the immediate vicinity.
The Fred offers to stay in one of the elegantly decorated 22 rooms, which are located around a huge infinity pool and a sunbathing terrace. Please note that the hotel is only for guests over 18 years old, but pets are welcome.
There is a spa and beauty center on site, offering a full range of pampering treatments.
14. Marriott Frenchman's Cove
A relaxing Caribbean atmosphere combined with high-class service and branded amenities is what the best resorts in the US Virgin Islands are all about, and Marriott's Frenchman's Cove is one of them. The complex, which looks more like a small town, is built on the slope of a picturesque hill, so it offers a magnificent view of Packer's Bay.
The resort is secluded by its own sandy beach, which allows for maximum privacy and tranquility. The design of the buildings is influenced by British and Danish architecture, and they are located in the middle of a vibrant tropical landscape.
Guests can stay in a luxurious villa with two or three bedrooms. The apartments are fully equipped - there is a kitchen, dining area, living room, and windows and balconies or patios offer spectacular views of the harbor and beach.
There is a large swimming pool with a water slide and a jacuzzi, a Mahogany Run golf course. There is a cafe and grill restaurant next to the water area, a shop and a coffee shop.
Marriott Frenchman's Cove offers a wide range of activities, with water sports being the main focus, including the opportunity to rent diving equipment.
Children will not be bored either, as there is a large center for them, offering many interesting activities. A special feature of the resort is the Kid's Night Out program, which allows you to leave your kids under professional and safe supervision in the evening so that parents can spend time alone.