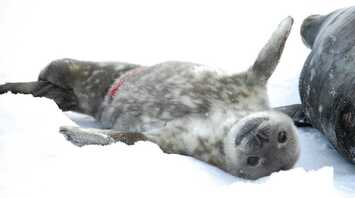 Weddell seals. Source: National Antarctic Research Center
Weddell seal pups were born near the Akademik Vernadsky station (Ukraine). So far, polar explorers have counted 5 pups.
All of them, together with their mothers, are on the neighboring Winter Island, the National Antarctic Science Center reported.
Scientists know the sex of only three Weddell seals: two boys and a girl. The mothers are not allowed to approach the other two.
As explained by Vernadsky scientists, pregnancy in female Weddell seals lasts 10 months. Each of them can give birth to only one seal weighing up to 30 kg. But it grows rapidly, with its weight reaching 400 kg in a few months.
The mother feeds the baby with milk for 7 weeks, and then it begins an independent life.