Unsafe clothing and shoes for airplane travel: 6 warnings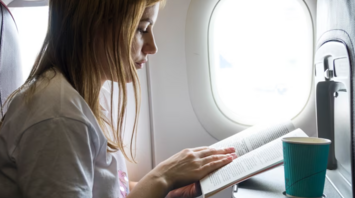 A girl on an airplane. Source: Freepic
When traveling long distances, it's important not only to choose comfortable clothes but also to ask about the climate. Sometimes the airplane itself can be chilly.
Here's what you shouldn't wear on an airplane and what you should avoid. Tips from opinion leaders are published by The Sun.
What is the best way to dress for an airplane, and what clothes can be dangerous
1. Shorts
This wardrobe item came in first place.
TikTok user Tommy Kimato warned against wearing shorts on an airplane because the seats are not cleaned regularly.
"You never know how clean it will be, so if you have pants [trousers], you'll have fewer germs," the blogger said.
2. Tight clothes
According to flight attendant Andrea Fischbach, it is better to leave clothes that restrict movement in the suitcase.
This is dangerous if the clothes are tight to the skin. Such clothing can cause cramps, swelling, and negatively affect your blood vessels.
According to the stewardess, it is very important to maintain normal blood flow during a long flight.
She also warned against wearing jeans that can compress your stomach.
"Bloating is a serious problem even for stewardesses, so wear something comfortable like a rubber belt around your waist," she said in her comments.
3. High heels
This is also not suitable for traveling on an airplane, according to the flight attendant. Firstly, it is dangerous for your health, and secondly, it is uncomfortable during transfers at airports.
"I would really advise against wearing high heels, mainly for safety reasons. If there is an evacuation and slides are needed, your high heels will have to be removed because they can pierce the slide," said Andrea Fischbach.
4. Leggings
According to aviation expert Christine Negroni, these clothes can also be dangerous on board an airplane. The expert mentioned leggings in her book.
In her opinion, leggings can be fatal in an airplane crash if the plane you are flying on crashes or there is a fire in the cabin.
The woman was referring to the fabric used to make hand pants.
"Everyone wears yoga pants on airplanes now, but I avoid all artificial fibers because they are likely to burn and stick to you in case of a fire. "I would rather wear cotton clothes or something made of natural fabrics," she says.
5. Flip flops
These shoes can also interfere with evacuation due to an emergency on an airplane. This opinion was expressed by CNN analyst Mary Schiavo.
"I see people getting on board in flip-flops, and I think if you have to get up and run and you fall or can't run, you're not only going to hurt yourself, you're going to hurt dozens of other people on that plane. So take your shoes," she said.
6. Jeans
This fashionable garment is also not suitable for traveling, according to flight attendant Kathy Ellen. She believes that jeans can make our legs swell too much.
"You can start the day with a flat stomach, and by the time you get to the other side, you'll have a bloated intestine," the stewardess said.