Transparent Caspian Sea and snow-capped Shahdag slopes: how to relax in Azerbaijan in different seasons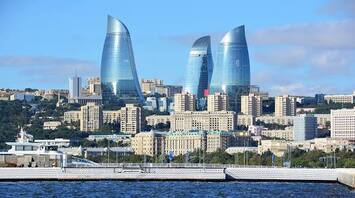 Azerbaijan. Source: Wikipedia
Situated at the crossroads of Europe and Asia, Azerbaijan offers a range of experiences, from its rich historical heritage to its lush natural wonders and vibrant cultural gems, all year round.
Every season of the year in this country offers its own entertainment and delights. Currently, Azerbaijan Tourism and Azerbaijan Airlines offer direct comfortable flights as part of a joint campaign to welcome foreign tourists, Euronews reports.
Spring
As flowers bloom and temperatures rise, let Azerbaijan Airlines take you to Baku's medieval core, where its labyrinthine streets come alive with tourists. Surrounded by 12th century walls and filled with oriental architecture, Icheri Sheher, or the Old Quarter, boasts museums, monuments, art galleries, and traditional restaurants.
Don't miss the ancient Maiden Tower for a glimpse into Baku's mysterious past, or explore the 15th-century Shirvanshahs Palace, whose sandstone walls and towering domes tell the story of Azerbaijan's ruling dynasty in the Middle Ages.
Soak up the sun while visiting Gobustan National Park, where you can admire more than 6,000 rock engravings that testify to 40,000 years of rock art.
Springtime visitors can also experience the magic of the Novruz Festival, which celebrates the equinox with traditional music, dance and colorful public performances.
Summer
In the summer, locals and tourists alike flock to the sparkling shoreline of the Caspian Sea to spend sunny days by the coast.
Despite its name, the Caspian is actually a huge lake, which explains Baku's location so far below sea level. Here you will find great beach clubs and ideal kitesurfing conditions. For a more secluded vacation, head to the beaches of Bilga or Mardakan.
Just three hours away from Baku, the picturesque village of Lahij is worth a visit in summer, when the cool mountain air blows through the ancient cobblestone streets.
Autumn
Cool but sunny autumn is the perfect season to catch an Azerbaijan Airlines flight and explore the city's gems.
Once an important stop on the legendary Silk Road, Sheki has become one of the most charming cities in Azerbaijan. The UNESCO World Heritage Site includes a historic center filled with handicraft shops and caravanserais, cobblestone streets, and colorful sweets.
Xan Sarayi is one of the most famous buildings in Sheki. Built in 1762, the exquisite palace dazzles with colorful frescoes as kaleidoscopic light spills through the stained glass windows.
Winter
Ski the snow-covered slopes of Shahdag Mountain at one of Azerbaijan's most beautiful resorts. Located just 29 km from the city of Gusar, the Shahdag Mountain Resort takes its name from the majestic Shahdag Mountain, which rises 4243 meters above sea level.
The colder months are also the perfect time to explore Cuba's quaint villages, and with Azerbaijan Airlines operating year-round flights, discovering the picturesque winter landscapes has never been easier.