Switzerland has once again become the best country to travel to: Top places of interest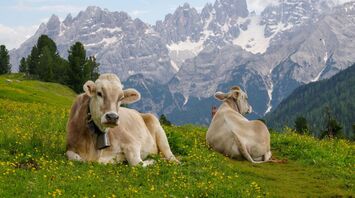 Swiss landscapes. Source: Freepic
For the second year in a row, Switzerland has been ranked first in the U.S. News & World Report's list of the best countries in the world. This country attracts tourists with its stunning mountains, lakes and valleys, as well as cheese and chocolate.
What places are worth visiting in Switzerland. And how to experience the life and culture of this country, writes forbes.
Jungfrau region
The Jungfrau region has been an international tourist destination for 160 years. It offers spectacular scenery and the largest glacier in the Alps, the Aletsch. The majestic Jungfrau massif consists of the Eiger, Mench and Jungfrau mountains, whose peak reaches 13,642 feet above sea level. Hikers will enjoy the engineering structures, trains, gondolas and hiking trails that cross green meadows and forests.
You can get to the highest point of the Jungfraujoch from Zurich. Take the Eiger Express train, then cross two mountains with a stop to admire the view. And now you are at the top, which reaches 11,332 feet above sea level.
The Sphinx Observatory
This place looks like a James Bond lair and is located on top of a snow-covered hill. The observation deck offers the best views, from which you can see the Eiger, Jungfrau and Mench mountains. The glacier is right below you. It's a miracle that people can even be here, let alone comfortably reach their destination by gondola and rail.
Jungfraujoch scenery
Walking through the ice tunnel, which is carved at a depth of 65 feet. Inside there are many ice sculptures, as well as walls, ceilings and (sometimes slippery) floors made of ice. Outside, you can make snowballs, and if you have enough time, take the snowy summer trail to Menhshöhütte. From the lower train station, you can access hiking trails among the summer wildflowers, or you can take the gondola at Eigergletcher to return to Grindelwald.
Cable car from Grindelwald
This metal path made of rock above the green forest will offer you an adrenaline rush. The platform is 148 feet above the ground.
Stunning views of snow-capped peaks and rocky mountains, glaciers, the Bachleher waterfall, green pastures and the city of Grindelwald far below.
Zip line from the mountain
Two different types of zip lines operate in winter and summer. On board the First Flyer, a seated zipline, you descend a half-mile-long steel cable from the First gondola station to the Schreckfeld, reaching speeds of up to 52 miles per hour.
Another zipline from First Glider offers a descent for four people who are suspended in a hang gliding position under the wings of an eagle. You will admire the views and descend at a speed of 50 miles per hour.
Other activities in the mountains
If you're not up for such an adrenaline rush, you can return to Grindelwald on foot or by gondola. You can also use Trottibikes. It's a cross between a go-kart and a toboggan, with a low center of gravity and three widely spaced wheels. They roll along a gravel road that is almost 2 miles long, where you can pull off the track in several places to admire the scenery and take photos.
Getting to Jungfrau
Choose Zurich Airport. After landing in Zurich, it's an easy walk to the Zurich Flughafen train station at the airport and catch one of the Swiss trains that arrive on time.
Then change to Interlaken Ost for the last scenic ride to Grindelwald (some schedules also have connections in Bern). If you want to save money, buy your train tickets to and from Grindelwald in advance, as well as your ticket for trains, funiculars, boats and gondolas of the Jungfrau Railway.