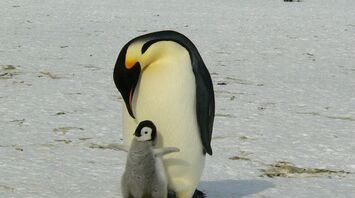 Penguins in Antarctica. Source: pihabay.com.
In the winter of 2023, sea ice around Antarctica reached a record low. Scientists are sounding the alarm, as this could have a negative impact on penguins, which breed and raise cubs exactly on the sea ice, and climate change at the south pole.
This was reported by the National Snow and Ice Data Center of the United States, writes Reuters. Melting ice accelerates global warming because it reduces the amount of sunlight that white ice reflects back into space.
The area of sea ice in Antarctica reached a record low on Sept. 10. It amounted to just 16.96 million km².
"This represents the lowest winter maximum since satellite records began in 1979. The previous record low was recorded in 1986, it is about 1 million km² more ice than recorded this year," the report said.
As is known, sea ice in Antarctica usually reaches its maximum in September, that is, at the end of the Antarctic winter. But already in June, the scientific community reported that the ice in Antarctica is melting "unprecedentedly fast".
This trend could threaten the extinction of emperor penguins, some species of seals and seabirds.