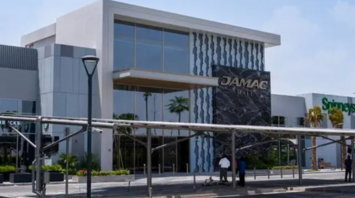 The mall has 30 stores. Source: Damac
A new 110,000 square foot shopping center has opened in Dubai. It offers retail, hospitality, leisure and entertainment services.
The mall, as reported by Zawya, is located at Damac Hills 1. Meanwhile, its developer Damac Group said it will create six more such locations across the UAE.
"We are going to focus on community malls and will not compete with the big ones. We opened the first one in Damac Hills 2 and the second one today in Damac Hills 1. We plan to open similar shopping centers in Lagoons. We are looking at half a dozen malls in the UAE," said Damac head Hussain Sajwani.
The mall features international and local brands across various categories, including 30 retail stores and 10 restaurants and bars.
Among others, the mall houses a 28,000-square-foot Spinneys supermarket, Starbucks, Papa John's, Vietnamese Foodies, American Wax, Al Jaber Opticals, Al Ain Pharmacy and Lingo playground for children.
And there are plans to open a 9,000-square-foot gym and an 8,000-square-foot dedicated medical center there soon.
Thus, the upcoming six new malls will create hundreds if not thousands of new jobs in the retail sector.