Huge bridge worth 14 million pounds to open in the British city of Boreham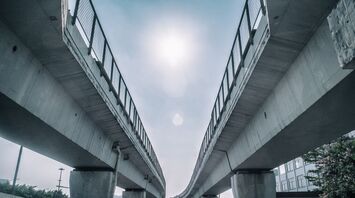 Construction of the bridge. Source: Freepic
In the coming days, on October 30, the huge curved bridge in Boreham near the A12 will be opened. The £14 million project has been plagued by setbacks and delays.
In this regard, the surrounding roads near the bridge will be closed. It is reported that the builders plan to finally complete the project, essexlive writes.
What is known about the bridge in Boreham
This is the new Generals Lane Bridge, scheduled to open on Monday, October 30. It will connect the Boreham interchange with the Beaulieu Estate in Chelmsford.
The opening date of the bridge has already been postponed. This was due to the need for additional research, according to the Chelmsford Garden Community Council.
The opening of the bridge was announced by Chelmsford MP Vicky Ford. To finalize the construction work, the Generals Lane roundabout at Boreham Interchange and the A138 from the Toby Carvery roundabout leading to Boreham Interchange will be closed.
How to get around this road:
If you're coming from the westbound Main Road or the southbound A12 heading to the Drovers Way roundabout in Chelmsford, there is a detour via the A12 at junction 18 to then return to the northbound A12 and exit at junction 19.
If you are travelling from the A138 or A130 northbound to get onto the A12 northbound, the detour is via junction 18 of the A12.
If you are travelling from the A138, A130 and A12 northbound to get to Boreham, get off at Junction 18 of the A12 and continue to Boreham via the B1137 (main road).
In addition, the bus route will change. Routes 71, X71 and 371, operated by First, will be closed.
A free shuttle service will be provided during the closure period:
Service 1 (71 to Springfield): to and from Chelmsford Bus Station - Chelmer Village Shopping Centre - Springfield (opposite Sainsbury's).
Service 2 (Boreham Shuttle): Boreham, St. Andrew's Church - Boreham Elm Way - Hatfield Peverel, The Swan Inn.
The new bridge will be the longest curved bridge over land in the UK. It will provide access to the Beaulieu railway station, which is scheduled to be completed by 2026.