A photographer who has been following a family of grizzly bears for 17 years has disproved a common stereotype about these animals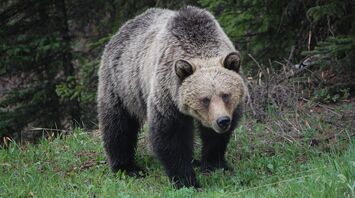 The photographer said that grizzlies do not prowl in search of people. Source: Pixabay
For many years, photographer Thomas D. Mangelsen has been following the world-famous Grizzly Bear 399, which lives in Grand Teton National Park and Bridger-Teton National Forest. He has seen the animal in a wide variety of situations and can therefore refute the common stereotype of these bears being aggressive.
Many people imagine grizzlies as evil predators that hunt people all the time and are devoid of emotions. MailOnline Travel spoke to Thomas D. Mangelsen and found out how Grizzly 399 behaves when no one is looking.
The heroine of the famous wildlife photographs was named so because she is the 399th bear registered in the Greater Yellowstone ecosystem. Thousands of tourists come to see the animal with her cubs.
Watching her, it becomes clear that Grizzly 399 is not aggressive and bloodthirsty, as these bears are often portrayed. If she and her cubs are not in danger, the predator is not likely to lash out at the first person she meets.
Thomas D. Mangelsen said: "The number one misconception is that they are evil and if you approach a bear, it can attack you, hurt you, or kill you. That's not really true. They are as afraid of us as we are of them. They are not interested in killing or harming people. They don't go around looking for people."
In addition, the photographer has repeatedly witnessed Grizzly 399 showing emotion. He saw in its behavior echoes of fear, anxiety, joy, peace, love for its children, grief at their loss, and other emotions.