5 perfect autumn places outside of big cities in the US, where a fairy tale awaits you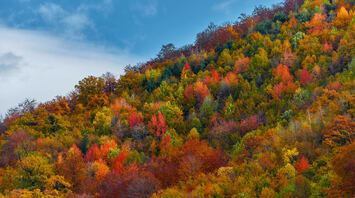 Autumn landscapes in the USA. Source: ForumDaily
According to a new study conducted by Vacasa, 60 percent of Americans are planning fall travel, with weekend trips being the most popular.
Global Traveler has named five perfect autumn destinations outside of major cities in the United States where you can enjoy nature and spend your vacation actively.
Escape from Chicago to Lake Forest, Illinois
Take a short drive or train ride to the quaint lakeside town of Lake Forest just 40 minutes north of Chicago. Stay at the award-winning, English-style Deer Path Inn and feel like you've been transported to the Cotswolds. The Inn offers all the luxury and sophistication found in a chic London hotel, including traditional afternoon tea.
Escape from Louisville to Lexington, Kentucky
A weekend trip to the horse capital of the world will allow travellers to see the time-honored tradition of horse racing against the backdrop of the country's most beautiful fall colors. Horseback riding enthusiasts can enjoy the crisp fall air on horseback, with guided horseback tours offered at the Kentucky Horse Park and Kentucky Castle.
Escape from Dallas to Fort Worth, Texas
A fast-growing Fort Worth, which is less than an hour's drive from one of the largest cities in Texas, offers the perfect autumn getaway with rich Western heritage, world-class culture, and a great hotel atmosphere. Head to the Stockyards District for fun, a historic neighborhood that preserves the city's western culture with its legendary cattle drive reenactment with real cowboys.
Escape from Atlanta to West Midtown, Georgia
Atlanta's once-industrial Westside neighborhood has become a mecca for artists, young professionals, and curious travellers, with 19th-century buildings and factories transformed into modern lofts, as well as galleries, retail shops, entertainment venues, office space and some of the best new restaurants. The Bellyard Hotel offers visitors a place to dine, play and stay overnight.
Escape from Nashville to Memphis, Tennessee
Head to Nashville's Western neighbour this autumn for music history, comfort food, and fewer crowds. Memphis' Overton Square has recently been transformed into an arts entertainment hub with five theaters for live performances, one of which Elvis rented for private screenings with his friends. The square is also home to the new boutique hotel The Memphian.