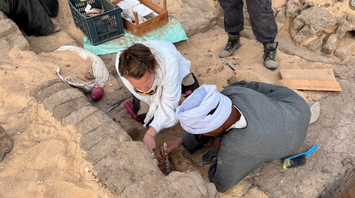 5 thousand years old wine found in Egypt. Source: Luxor Times
Hundreds of closed and undamaged wine vessels, which are about 5,000 years old, have been found in southern Egypt.
The find was discovered by a joint Egyptian, German and Austrian archaeological mission, Luxor Times writes, citing the Ministry of Tourism and Antiquities in Cairo.
"The discovered vessels are large and in a good state of preservation. And the remains of wine found inside are approximately 5000 years old," said Mustafa Waziri, Secretary General of the Supreme Council of Antiquities of Egypt.
Archaeologists discovered the vessels in the tomb of Queen Merneith of the First Dynasty (2925 BC), who may have been the first female pharaoh in history, in the Umm al-Qaab acropolis in the city of Abydos.
Although beer was a popular drink in ancient Egypt, wine was consumed among the higher social strata, including pharaohs and priests.