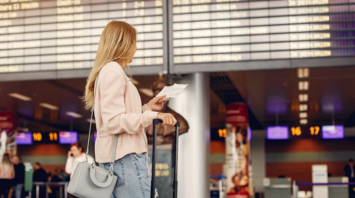 What you need to know before your first flight
Boarding an airplane for the first time can be nerve-wracking, especially for people who are afraid of flying.
The best way to calm down and be ready to fly is to be aware of the procedures at the airport and on board. That's why Simple Flying has compiled a quick guide for first-time flyers.
What and how to pack?
Although most domestic flights allow you to carry only carry-on luggage and a small personal item, travellers often like to check their luggage, especially those with multiple connections. It's important to pack your carry-on with the things you need for your trip. Examples might include a set of clothes, a cozy pair of socks, travel toiletries, one or two snacks, and personal items including jewellery, electronic gadgets, and chargers.
Make sure your carry-on baggage does not contain any prohibited items such as liquids or firearms.
Checking in at the airport
Due to the increasing number of air travellers worldwide, it is important to have enough time to get through check-in, security, and boarding. Arriving early at the airport means that the check-in desk is not busy and you have enough time to present your documents, request or confirm your seat assignment, and check in your luggage.
Security.
Most travellers are concerned about going through airport security. The number one reason for this concern is lack of preparation. Make sure your clothes are free of metals (belts, jewellery, keys, etc.). Liquids and aerosols should be limited to 3.4 ounce (100 ml) bottles in a clear, one-litre zipper bag.
Getting to the gate
Regardless of the time before boarding, it is always a good idea to find your gate without unnecessary delays. Information about the gate and boarding time is printed on the boarding pass. In addition, terminals have many monitors that display information and update any last-minute changes. Follow the signs to the terminal, lounge, or gate and arrive at your boarding time.