What luggage to choose when preparing for a long-haul flight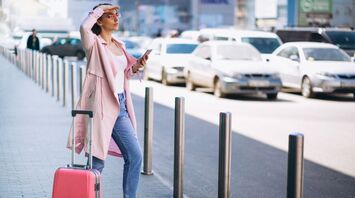 A woman with a suitcase. Source: Freepic
When travelling long distances, passengers try to take a lot of things with them in their luggage. This is not surprising, as it is always more convenient to use your own belongings than to buy new ones or use those provided by hotels.
However, when preparing for a flight, you should analyze everything and weigh it in detail. After all, airlines often charge passengers extra money for excess baggage, according to the article by Simple Flying.
When preparing for a long trip, it is often difficult for passengers to determine what kind of luggage to take with them. Any decision a passenger makes should be optimal to meet their individual needs.
Among the main tips is to first estimate the number of things you need to take with you in your luggage. After all, carrier fees can be very expensive. For example, a United Airlines passenger with two checked bags can pay more than USD 170 one way, i.e. USD 340 round-trip.
At the same time, it is important to keep an eye on the fare discounts offered by airlines. After all, certain fare classes within the economy class may affect baggage fees. For example, those flying in basic economy class on United Airlines are charged more for baggage than those with standard economy class tickets.
Experts advise passengers to carefully monitor the weight of their luggage, as all airlines charge extremely high fees for luggage that exceeds the weight limit. At the same time, passengers are offered a simple life hack. Sometimes it can be more profitable for travellers to pack their belongings in two separate checked bags than in one that may exceed the limit.
Pay attention to the suitcases you will use during the flight. After all, large soft-cover suitcases on wheels can hold more things. On the other hand, hard suitcases do not stretch, but they can protect things from mechanical damage.
Travellers should also remember about their carry-on luggage, which should contain everything they need not only for the trip but also a day or two after arrival in case the passenger's luggage does not arrive. In addition to personal belongings, passengers are allowed to take hand luggage with them.
When it comes to personal belongings, backpacks are probably the best choice for long-haul flights, as they can easily accommodate all of a passenger's essentials as well as an extra set of clothes. However, some people choose small bags or briefcases depending on their personal needs.