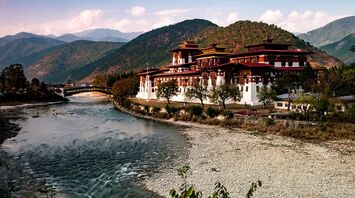 Vacation in Bhutan will become cheaper. Source: Travel Family
The Himalayan kingdom of Bhutan has halved the $200 daily fee it charges tourists in a bid to boost a sector still struggling to recover a year after the end of pandemic restrictions.
The new rate of $100 per night came into effect in September and will remain in effect for four years, the government said in a statement, Gulf News reports.
Bhutan raised the "sustainability fee" to $200 per visitor per night from $65 when it ended two years of COVID-19 restrictions last September, saying the money would go to offset the carbon emissions generated by visitors.
Isolated for generations, Bhutan opened to tourists in 1974 when it received 300 visitors. According to official data, in 2019, their number increased to 315,600, which is 15.1% more than the year before.
Bhutan has always been cautious about the impact of mass tourism and prohibits mountaineering to preserve the sanctity of its peaks. A tourist tax restricts visits by big spenders, who make up a small fraction of visitors to neighboring Nepal.
Nevertheless, Bhutan hopes to increase the contribution of tourism to its $3 billion economy by 20 percent from about 5 percent.