United States introduces visa-free entry for Israeli citizens starting in November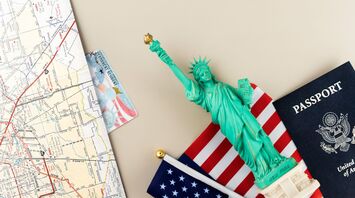 American visa. Source: Freepic
The United States government has officially introduced a visa-free regime with another country. From now on, Israeli citizens are allowed to enter the United States without visa formalities.
The U.S. Department of State officially announced its decision in a post on its website. At the same time, Washington disclosed some details of the unexpected decision.
It is noted that the decision to include Israel in the visa-free regime program was announced by the Minister of Internal Security Alejandro Mayorkas. Officials reached this agreement after consultations with U.S. Secretary of State Anthony Blinken.
Israeli citizens will be able to take advantage of the innovation in a month. Visa-free entry for Israelis will begin on November 30, 2023.
The decision stipulates that Israeli citizens will be able to apply for travel to the United States for tourist or business purposes. The possible period of stay of Israeli citizens in the United States without visas is 90 days.
In turn, after Israel's travel rules are updated, all US citizens will also be able to take advantage of visa-free travel. It is envisaged that Americans will be able to apply for entry to Israel for up to 90 days for business, tourism or transit without obtaining a visa.
At the same time, U.S. officials have already expressed their wishes regarding Israel's decision on visa-free travel. In particular, U.S. Chargé d'Affaires in Israel Stephanie Hallett said that the United States also expects Israel to decide on the admission of all U.S. citizens to the country.
Moreover, U.S. officials point out that the rights should also be granted to Americans of Palestinian descent living in the West Bank and Gaza Strip. Israeli security services often refuse to let them pass.
It should be added that Israel has become the 41st participant in the United States Visa Waiver Program. As of now, citizens of 40 countries can stay in the United States for 90 days without a visa.