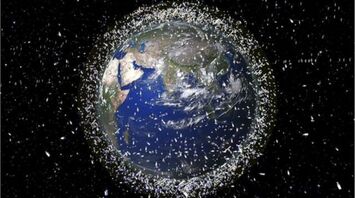 Space junk. Source: BBC
The US Federal Communications Commission has fined Dish Network $150,000 (£125,000) for failing to move an old satellite far enough away from other satellites in use.
The company has admitted responsibility for its EchoStar-7 satellite and agreed to a "compliance plan" with the FCC, the BBC reports.
Space debris is pieces of equipment that are in orbit around the Earth but are no longer in use and risk collision. It includes old satellites and parts of spacecraft.
The FCC said that the Dish satellite poses a potential risk to other satellites orbiting the Earth at its current altitude.
Dish's EchoStar-7, first launched in 2002, was in geostationary orbit, which begins at an altitude of 22,000 miles (36,000 km) above the Earth's surface.