The unique 800-year-old ginkgo tree in South Korea amazes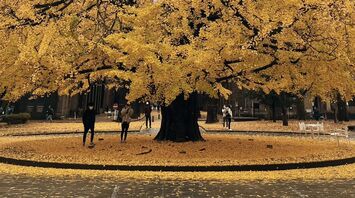 Ginkgo, the largest tree in South Korea. Source: twitter.com/aziaronism
An incredible ginkgo tree in the village of Bangi-ri, South Korea, is considered one of the most beautiful in the world. The tree is already 800 years old and attracts visitors from all over the world.
Especially when the ancient tree is adorned with its golden leaves. The tree has been protected as a natural monument since January 31, 1965, according to the Daily Mail.
Its total height reaches 33 meters, and its crown measures 37.5 meters from east to west. The ancient tree impresses numerous tourists with its beauty.
"According to one legend, it was planted by a member of the Seongju Lee family who stopped here to drink water and left his staff standing on the ground when he left. Then the staff grew into a tree," says one local legend.
Another legend about the tree says that a white snake lives in it, which is why it has grown so strong and big today. "Local farmers believe that they will have a good harvest if the whole tree turns golden in the fall," emphasize the local legends.
On average, 4,000 people visit the tree every day, regardless of whether it is a weekday or a weekend. "There are no restaurants nearby, and the nearest store is 1.5 kilometers away, but people come just to see the beauty of this tree," locals say.
The tree is also a hit on the Internet. A recent autumnal photo of the tree taken by travel photographer Seo Young-gil received more than 50,000 likes on Instagram.
Commenters called the photo "beautiful," "fascinating," and "wonderful." Meanwhile, one YouTube user titled his video of the tree simply: "The most beautiful tree in the world."