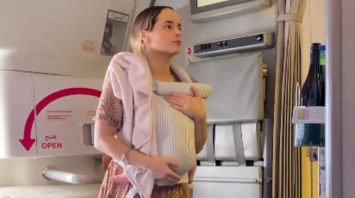 Mom rocking her baby on an airplane. Source: Screenshot from the video
A mother from Australia was stunned by the reaction of netizens to her video showing how she rocked her baby during a flight.
Aliza Carr, a Sydney-based midwife, recently shared a video on Instagram of herself rocking her 4-month-old daughter Zadie near a series of emergency exits.
"If you've traveled with a small child, how did they fall asleep?" Carr asked in the caption. "I know that even if my baby's life depended on it, she would not sleep in an airplane bassinet or even on top of us - standing up, bouncing and rocking aggressively is the only way," she explained.
But this video caused a flurry of negative comments. In them, several people shamed Carr for traveling with a small child, one woman called the mom "selfish" for not staying at home. Carr was also accused of "accustoming" her daughter to rocking.