The most expensive burger for $700 with caviar and gold: what the Drury Beer Garden restaurant charges a lot of money for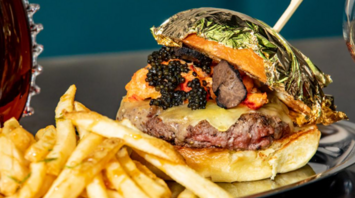 The Gold Standard burger, which is on the menu at DBG restaurant in Center City, Philadelphia, costs $700. Source: nypost.com
The Drury Beer Garden restaurant in Philadelphia, which opened recently, serves hamburgers for $700.
The insanely expensive burger is called the Gold Standard and consists of beef, caviar, truffles, lobster, with Louis XIII cognac, gold leaf, and aged Irish cheddar, reports the New York Post.
The hamburger appetizer is no less exotic. After all, the fries are served drizzled with rare and powerful manuka honey, made from the nectar of the manuka tree, which is native to New Zealand. The honey can cost up to the not-so-sweet price of $816 online.
The restaurant also serves 1 ounce of Louis XIII cognac, aged for at least 40 years and produced in limited quantities by Remy Martin, to accompany the expensive first course. According to Forbes, a 750 ml bottle costs $4100.
However, not everyone appreciated the offer of the most expensive burger. Twitter users said they would not enjoy the most expensive patty, the article says.
"Instead, I would hold on to the burger and make a donation," others added. "With people struggling so much these days (especially with inflation), this is really in poor taste," they write online.
What restaurateurs say
"Burgers are one of the world's favorite foods," said George Tsiouris, who co-owns the restaurant with his sister Vasiliki Tsiouris-Balis.
"We are excited to provide our guests with amazing, creative and delicious dishes with our new menu concept," they emphasized.
It should be added that apart from the Waygu cheeseburger, which costs $85, other DGB burgers range from $19 to $23.