The harshest winter in the USA: which state became the coldest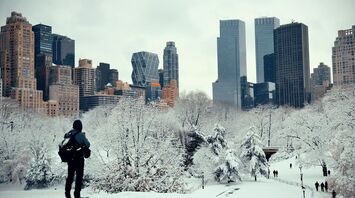 American winter. Source: Freepic
Modern winters can be quite terrifying when it comes to freezing temperatures, ice, and howling winds. Of course, the US does experience cold weather and chilling winds from time to time, but the amount of snowfall is decreasing every year.
Thrillist have ranked the states with the harshest winters in the United States. Ohio took 10th place in the ranking due to snowstorms and subzero temperatures in the lowlands.
Illinois was ranked 9th. Winters in Chicago are notoriously harsh, but the people there have a warm and generous spirit that leads to displays of solidarity.
8th place goes to Maine. People say about winters in northern Maine that they are brutal and essentially endless. Vast thousands of miles of the state's territory are deserted or sparsely populated, and that's because the cold months in this direction are like a long night.
Nebraska is in 7th place. In the western part of the state, the cold months are quite moderate due to the mitigating effects of winds. While people in the east are forced to hide from the harsh winter conditions.
Iowa takes the 6th place. Often, nature gives unpleasant surprises here, such as incredible blizzards that become a real disaster for local roads.
Wisconsin is in 5th place in the ranking. Winters here can be quite harsh and dangerous. This even affects local traffic, as state law stipulates that each block of a city or town in Wisconsin must have at least three lanes to allow for traffic during heavy snowfalls.
South Dakota ranks 4th. The average temperature in South Dakota during the cold months is four degrees warmer than in North Dakota. The main winter activities include ice fishing and snowmobiling.
The state of Michigan took 3rd place. Many winter activities are popular here, including cross-country skiing on very flat terrain.
The 2nd place went to Minnesota. In areas of northern Minnesota, it is not uncommon for a large layer of snow to fall, and the temperature can drop to minus 60 degrees, a temperature at which frostbite can occur in less than five minutes.
And finally, the state of North Dakota is in 1st place. This area is famous for its low temperatures. It is the coldest state. July and August are the only months when it does not snow here. Every year, the temperature drops to minus 20 (and a few days to minus 30!). Once in the 1930s, it even dropped to minus 60 degrees.