The British are preparing to fly to Spain on the largest "Flying Buttocks"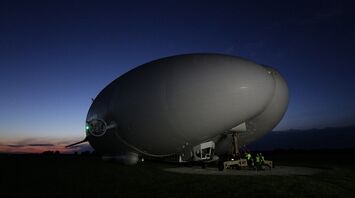 Airlander 10 (2016). Source: wikipedia
British designers who created the world's largest airship promise to fly on such a flying liner in 2026. As it became known, the futuristic ship will be able to transport 100 tourists to the Spanish islands, including Mallorca, Ibiza, and Menorca.
This airship got its nickname due to its elliptical shape. Manufacturers predict that it will revolutionize air travel, ladbible writes.
What is known about the new Airlander 10 airship
This sky liner was designed by the creators of Hybrid Air Vehicles.
Its length is up to 300 feet. It produces "less pollution and noise" and has "tremendous endurance and cargo capacity."
The first test flight of the blimp was made on August 7, 2012 in Lakehurst, New Jersey. It was intended for US military purposes. However, in 2013, the US Army abandoned the project due to its high cost.
Hybrid Air Vehicles bought the airship back. In 2016, the company launched a new airship, which was decided to be used for civilian purposes and entertainment.
The vessel is the size of a football field and the length of six double-decker buses.
The airship uses aerostatic and aerodynamic lift with backup diesel engine propellers when needed.
In the press, the Airlander 10 was given a provocative name because of its bizarre shape - Flying Bum.
The manufacturers note that the hybrid lift and advanced transmission technology provide up to 90% less emissions than alternative aircraft.
They are also confident that the airship is "much less affected by turbulence than a traditional passenger plane."
"It will be more like traveling on a cruise ship than an airplane," promised Tom Grundy, CEO of Hybrid Air Vehicles.
A ticket for this unusual liner will cost 40 million pounds. The company plans that the airship will be able to take off from anywhere and will not need an airport.
There are six inflatable spikes underneath, which will allow it to land on almost any flat surface, including water, the manufacturers promised.