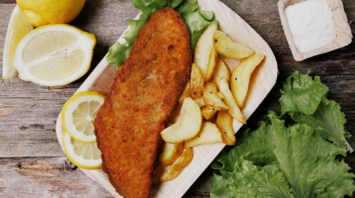 Fish and chips
There's nothing better than a fish and chips dinner in a place with a great view. Luckily, Scotland is home to several amazing restaurants serving up some of the most delicious fish and chips.
Daily Record looked through Tripadvisor to find out which restaurant is named the best in each city in the country from Aberdeen to Stirling to Dunfermline.
Edinburgh
Edinburgh is home to many favorite cafes and restaurants. However, according to Tripadvisor, the Doctors Pub came out on top. It is a favorite among students and locals alike.
Glasgow
According to Tripadvisor, the best fish and chips in the city can be found at Murphy's Pakora Bar, which, as the name suggests, specializes in mouthwatering pakora and curry. You'll also find Indian fish and chips, served with masala-spiced fries, coriander mint chutney, and red fruit chili sauce.
Aberdeen
You'll find the best fish and chips at The Wild Boar in the Granite City, according to Tripadvisor. This colorful historic pub serves crispy battered Atlantic cod with properly cut chips and tartar sauce with soft or garden peas. No wonder it's a hit with customers.
Dundee
The Cobbies Inn is the place to go in Dundee if you're looking for delicious fish and chips, according to Tripadvisor. Here, you can be treated to fresh haddock fillets: breaded or battered. You can even choose a special salt and pepper batter. Customers also praised the staff and the décor.
Inverness
Moving to the largest city and cultural capital of the Scottish Highlands, anyone looking for a delicious fish dinner can hardly go wrong with Urquhart's. The small, family-run establishment, which opened in February 2011, prides itself on its fresh, home-cooked food prepared in its own kitchen.