Storm "Frederico": in France, the wind blew off the roof of a school. Video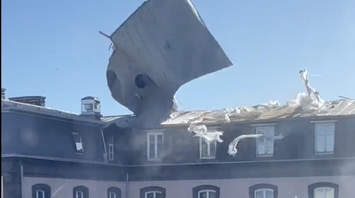 Strong winds damaged a school in France. Source: Screenshot X
Recently, a powerful storm "Frederico" swept through France. In the city of Clermont-Ferrand in the central part of the country, part of the roof of a school was blown off due to strong winds.
The storm reportedly caused "significant damage" to the city. The moment when the roof was torn off the high school building was captured on video. This was reported by France Info.
According to witnesses, powerful gusts of wind gradually opened the roof until it finally flew off.
French meteorologists have declared an orange level of danger for part of the country. In some places, wind gusts reached 126 km/h (78 miles per hour).
The weather damaged not only houses but also trees. On some streets, the road was blocked due to large fallen trunks.
Transportation was also halted due to Frederico. Trains and buses could not run for almost the entire day. Some videos on social media showed people barely standing on their feet, with the weakest falling to the ground during gusts of wind.